Jason Jewell, from Louisville, and Jessica Morgan, from Midway, Kentucky, have been named "Mr. and Ms. Cardinal" for 2017. The seniors were honored during the men's basketball game Saturday against Virginia Tech. 
Jewell, who majors in political science, is a Harlan Scholar, Woodford R. Porter Scholar, Martin Luther King, Jr. Scholar and McConnell Scholar. He serves as a Student Government Association Arts and Sciences senator and the Club Programming Committee chair. He has also served as president of the Society of Porter Scholars and as a member of the UofL Honors program, Students Stimulation Conversation and the Task Force Freshman. 
"I chose UofL because it was one of the only schools where I really felt like I had a family already at the university and people who were truly interested in my progression not just as a student but as a person in general," Jewell said. 
Morgan, who majors in English and Spanish, is a Governor's Scholar and a Vogt Scholar. She serves as the SGA's Arts and Sciences Council president and executive staff. She has served a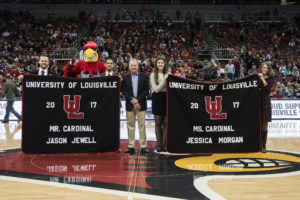 s a member of the PEACC Program, the raiseRED Marathon, Order of Omega president and Chi Omega Sorority.
"I chose UofL because it's very different from where I'm from. It's a lot more diverse, which I think offers a lot of growth as an individual," Morgan said. "Everyone is so encouraging and willing to help you learn not only about other people but about yourself."
Each year, UofL bestows an award to an outstanding senior man and woman as Mr. and Ms. Cardinal. This award is based on academic achievement, extracurricular activities, contributions to the university, an explanation of what the "Mr. and Ms. Cardinal Award" means to the applicants as well as an interview by a panel of judges.
Check out a video of Mr. and Ms. Cardinal below.