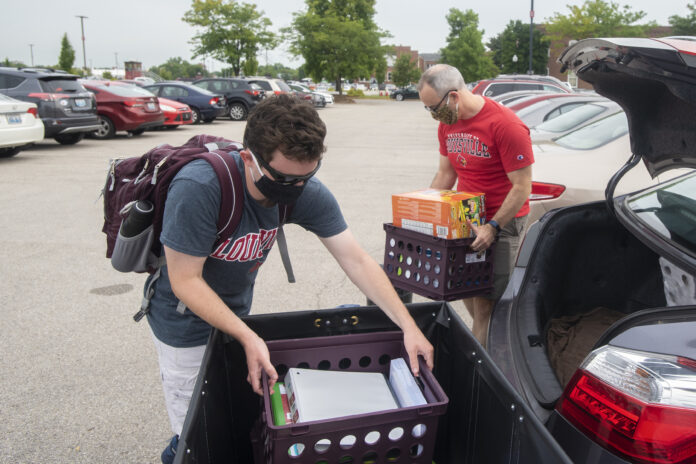 Move-in Day at UofL is usually a day full of hustle and bustle, with new students and their parents weaving in and out of busy residence halls as they move in their belongings. Students beam with excitement as they begin their foray into college life while parents smile through tear-filled eyes as they leave their sons and daughters in their new home.
While UofL's 2020 move-in brought out similar emotions, there were some noticeable differences due to the COVID-19 pandemic.
Eva Gover, an incoming freshman from Somerset, Kentucky, who is majoring in Biology and minoring in Spanish, seemed to capture the overall feeling of students as they arrived on campus.
"I'm a little nervous, but I'm just happy I get to be here," Gover said.
This year the crowd was smaller as students were required to schedule one-hour move-in appointments to ensure social distancing in the residence halls. Everyone wore masks, which hid any smiles from students and their parents.
Like last year, President Neeli Bendapudi was there to welcome students and their parents to campus with a (masked) smile and friendly banter. While excited for students to return, Bendapudi acknowledged the steps the Cardinal family must take to remain healthy.  
"We are so excited to see freshmen getting their first taste of college and beginning their college journey," Bendapudi said. "For all of us, this is an opportunity to show we are a community of care, so today you'll see people wearing masks, social distancing and hopefully some very good hygiene."
For incoming freshman and industrial engineering major Daphne Chong, moving to UofL was an easy decision, despite the long journey it required and the pandemic.
"I'm from Newport Beach, California, so it's definitely going to be weird not knowing anyone here," Chong said. "But I chose UofL because I felt like this was where I would get support and community. From my tour guide to my admissions counselor, everyone was just so nice here."
Chong took an online course from UofL to help prepare for college this summer, which helped her gain confidence in herself and her new school.
"I already did the Brown Forman Engineering Academy and it was run so well that it really made me a lot more confident because I was still able to make those personal relationships with my teachers and peers and get the help I needed," Chong said.
For Oliver Fister, an incoming Biology student from Lexington, Kentucky, moving into UofL was a day to remember.
"I'm as excited as I probably would be if we weren't in the middle of a global pandemic," Fister said. "I'm a little nervous about some things like staying in my dorm more than usual or not going to the library as much, but I'm really excited to live somewhere different and take some interesting classes this semester."
Fister's parents echoed their son's excitement, even though it was bittersweet.
"We'll miss him, but I'm more excited for him than anything," Zach Fister, Oliver's father, said. "This is his next step. And we'll always remember this, especially during these times."
Check out video from the first day of Move-In Day 2020: