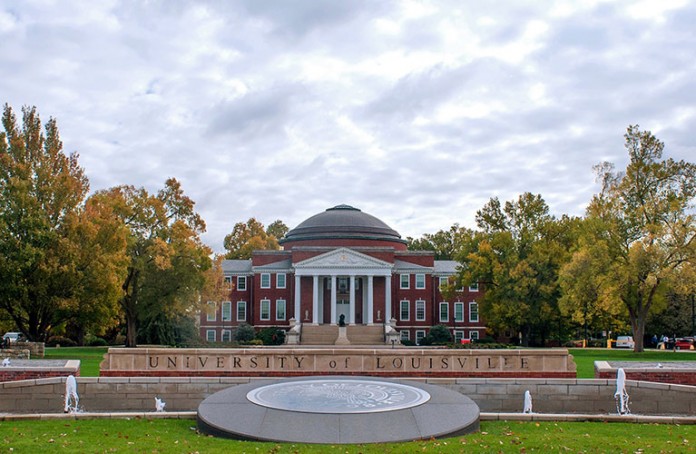 Faculty Senate met virtually on October 7 via Microsoft Teams and they were joined by President Neeli Bendapudi.
The annual gavel transfer took place between former Faculty Senate Chair Krista Wallace-Boaz and new Faculty Senate Chair David Schultz.
Wallace-Boaz concluded her two years as chair by praising university faculty members. "Thank you for being so strong and creative. You are agile, you are dedicated, you are student-centered, and I really appreciate each and every one of you," she said.
President Bendapudi thanked Wallace-Boaz for her years of service as the Faculty Senate Chair, provided updates on COVID-19 and reviewed her position on the university's commitment to anti-racism.
Experts have warned that overlapping symptoms with the flu may lead to an increase of undiagnosed COVID-19 cases. In order to mitigate incorrect self-diagnoses, it is encouraged that students, staff, and faculty receive a flu vaccine this season. Additional dates for flu shots will soon be offered on campus and announced in upcoming university communications.
Bendapudi also addressed discussions regarding spring break. Fear that students will travel out of state contributes to a heightened risk of exposure and transmission back on campus. After meeting with presidents from all Kentucky universities, Bendapudi reported that institutions state-wide plan to forgo the traditional spring break. A final decision on the observance of spring break is forthcoming.
An e-mail sent out by President Bendapudi in September was also addressed. She acknowledged that some took the e-mail regarding social justice and reform as the president taking a stand against law enforcement.
Bendapudi acknowledged her respect for the Southern Police Institute, citing that she was the first president to attend their graduation in nearly 50 years. She went on to clarify her position on justice reform by stating, "I took the stand that we should not cut ties with LMPD. We believe in education. We need to improve it from within. We need to figure out how to do better."
Executive Vice President and University Provost Beth Boehm announced that she had employed an Assistant Provost for Adult Learning and Degree Completion. After writing the grant this summer, Boehm was able to secure two years of funding for the new position. Boehm stated that the creation of the position was motivated by the effects of COVID-19 on adults without college degrees.
Boehm said data collected from the midterm semester report showed twice as many students had been marked as at-risk. Boehm then raised the issue of student retention. The report showed a lack of student engagement, attendance and completed assignments. Boehm implored faculty members to contact those students they believe to be at risk in an effort to improve student retention rates.  
Results from a survey conducted by the Office of Institutional Effectiveness revealed that students believed faculty was unprepared for online instruction. There were additional complaints that instructor interaction was minimal. Students reported a perceived increase in 'busy work' and assigned readings. Boehm stated that many students believed, "… that faculty were piling on more work for students, but not doing more work themselves." Many students also reported disappointment in the quality of online courses, which contributed to suggestions that the university should reduce tuition.
The survey also presented data on students' preferred methods of instruction. Nearly 35% preferred fully online courses. Roughly the same percentage would rather enroll in hybrid courses, and the remaining 30% opted for a combination of online and hybrid. Boehm assured senators that this data would be taken into consideration by the Academic Scenario Planning Committee when deciding the upcoming spring course schedule.  
Senator McIntosh expressed concern that despite faculty flexibility and interactive instruction, most students refused to attend the in-person meetings of hybrid courses, opting to participate online. The senator implored the planning committee to limit the flexibility of hybrid courses in an effort to ensure student attendance and participation.
Boehm shared the senator's concerns, but she acknowledged that immunocompromised students might require courses only being offered in a hybrid setting. Boehm encouraged faculty to e-mail her any suggestions on the issue, stating that suggestions would be brought before the planning committee.
Faculty Grievance Officer Cedric Powell provided the FGO Annual Report. Powell reported that a total of four grievances had been filed this term. One Type 1 grievance was filed from the School of Law and three Type 2 grievances were filed; two from Arts and Sciences and one from the School of Medicine. Powell went on to say that the Type 1 grievance is in the process of being appealed. One of the grievances from Arts and Sciences has been closed following a settlement between the parties. The other grievance from Arts and Sciences is scheduled for a hearing. The School of Medicine grievance was closed following the submission of findings to the Board of Trustees, who affirmed the decision of termination by the hearing board.
Committee reports and a video recording of the virtual meeting can be accessed on the Faculty Senate meetings webpage. The next faculty meeting is scheduled for November 4 via Microsoft Teams.