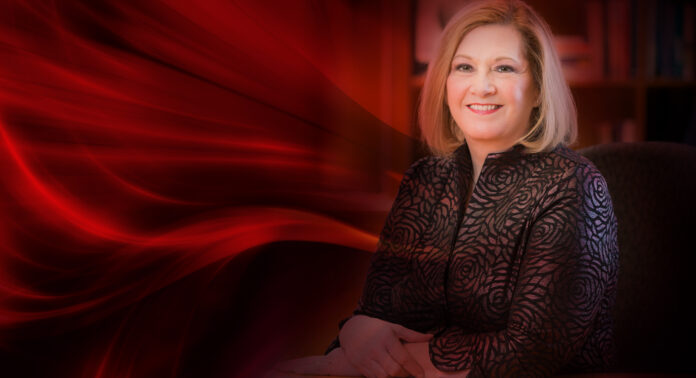 On April 1, Lori Stewart Gonzalez officially assumed her new role as executive vice president and university provost, overseeing UofL's undergraduate, graduate and professional education.
Reporting directly to President Neeli Bendapudi, Gonzalez works closely with deans, vice presidents and other administrative officials to advance the teaching, research and service missions of the university.  
Gonzalez is focused on getting university members back on campus, safely, over the summer and by the fall as the pandemic lingers. She also wants to help the campus community rebuild its sense of belonging. 
"The human connection is part of the fabric of a university. You know, it's in those moments you're walking to the library, you're going to get a cup of coffee and you see someone that you haven't seen in a while and you catch up. I think being detached (during the pandemic) increased everyone's anxiety. I know it did mine. So any problems become a huge problem. Feelings get hurt more quickly. There's something about sitting face-to-face with people," she said.
For the long-term, Gonzalez wants to partner with the campus community on deciding how we will define and measure being a premier metropolitan university. 
"There's no set of criteria that would say you are a premier, metropolitan university. There are tons of metrics out there you can do, so how are we going to define that? How are we going to measure and operationalize what that will mean for UofL? And becoming a premier, anti-racist campus goes hand in hand with that," she said. "What is it going to mean to show we're moving closer and closer to being an anti-racist campus? At the end of the day, how will we know that we've moved the needle on both of those things?"  
UofL News had a chance to sit down with the new provost, originally from a small town in eastern Kentucky, to get to know more about her personal and professional background, as well as her goals as provost. 

UofL News: What motivated you to work in higher education? 
Gonzalez: I'm a speech-language pathologist by education and early on in my career I was invited to do a series of continuing education activities for other speech pathologists and I realized I loved teaching. But the real reason, I think, is my father. He was a graduate of Berea College, he was the first in our family to go to college and education was always talked about in my house. He encouraged people in our little town to get a degree and at his funeral, I remember somebody saying, 'I'm a nurse because your dad told me I could be.' I was just inculcated with the notion that education is a transformative experience. You can transform a person, a family, a community and really our world. That's my 'why.'
UofL News: Did you have a favorite course in college that you remember? A favorite professor? 
Gonzalez: Yes. I took a course in phonology with my professor, Alice Dyson, who later became my mentor in my doctoral program. Studying phonology is working out the puzzle of a child's speech when no one can understand them. They have their own rules. I started unlocking the puzzle of children's speech and that course set me on a career path of wanting to untangle challenges. When someone comes to my office with a real need and it's a tricky situation, it's a puzzle and I have to find the pieces. Sometimes it's money. Sometimes it's a barrier. Sometimes it's connecting someone to someone else. But it's all a puzzle that you can solve.
UofL News: Do you have a favorite thing yet about UofL?  
Gonzalez: The warm, welcoming people. I've been astounded by it. Even from the time it was announced that I would assume the position, people reached out to me and were so welcoming. I haven't been able to interact a lot with large groups of students, faculty or staff, but I think it's a spirit here that is recognizable.
UofL News: What is your favorite quote or best piece of advice you've received? 
Gonzalez: It's a proverb: fall down seven times, get up eight. It's all about resilience. When somebody stumbles, sometimes they think that a failure is going to derail them forever. But what you do is, you get yourself up, dust off and then you go forward. You reflect on what happened, but you just get up every time, every time, every time.
UofL News: How do you like to spend your free time? 
Gonzalez: I'm a baker. I like to bake. It's one of the reasons I'll be glad to get back into an office, so I can bring baked goods in! I read a lot. I also like to walk. My husband and I, we walk every day when we're together. We also enjoy renovating homes. We like to get a house that needs a little love and put our own stamp on it. We've done that three times.
UofL News: What do you want our students, faculty and staff to know about you?  
Gonzalez:  I would want everyone to know that I see academics as our core mission. It is why we are here. So, we have to be a student-first campus focused on how they can be successful as students and as engaged citizens upon graduation. But we cannot do that without dedicated, engaged faculty and staff. I'm committed to making sure that our students are successful and supporting and developing our faculty and staff. It's this synergy we get when we all have the goal of creating the next generation of engaged leaders, the next generation of health care professionals, poets, musicians, etc. As we do all those things together, it is, as we say in the Cardinal Principles, our Noble Purpose.