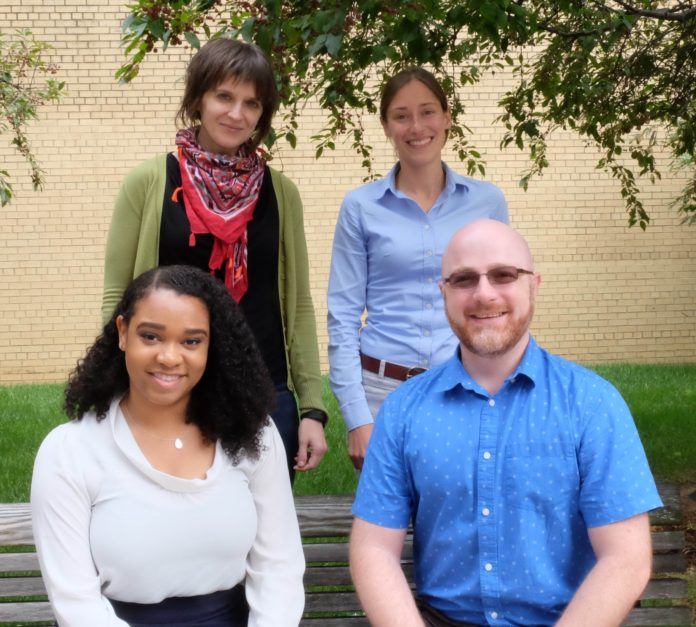 One doctoral student from each of the four schools on the University of Louisville Health Sciences Center campus has been selected for the second cohort of the Health and Social Justice Scholars program. The newest scholars include: 
Tasha Golden, School of Public Health and Information Sciences
A doctoral student in the School of Public Health and Information Sciences, Tasha Golden works with the Youth Violence Prevention Research Center and the Commonwealth Institute of Kentucky. Golden's community-oriented research at the intersection of art and public health is informed by her career history. As the frontwoman and songwriter for the band Ellery, her songs have been heard on the radio and in major motion pictures, TV dramas and Starbucks.
Golden's prose and poetry have been published in "Ploughshares," "Pleaides" and "Ethos Review," among others, and her debut book of poems, "Once You Had Hands" (Humanist Press), was a finalist for the 2016 Ohioana Book Award. Her critique of gender inequities in the juvenile justice system appears in the Spring 2017 issue of peer-reviewed journal "Reflections." Golden's background as artist, entrepreneur and researcher often leads to new and unique networks, and allows her to draw connections among disparate ideas and initiatives. She continues to write and record, and has led trauma-informed creative writing workshops for incarcerated teen women since 2012. 
John Luttrell, School of Nursing
John Luttrell obtained a bachelor's degree in organizational communication from Murray State University in 2005, and a bachelor of science in nursing from the University of Louisville in 2013. While he was a student at UofL, he served as the academic affairs liaison on the Nursing Student Council, and received the Helen C. Marshall Award for Outstanding Leadership.
While working as a trauma nurse at University of Louisville Hospital in the Surgical Intensive Care Unit from 2013-2016, Luttrell completed the one-year nurse residency program, often served as the charge nurse during his scheduled shifts, and served as a clinical capstone preceptor for nursing students at the UofL School of Nursing. Luttrell is a full-time PhD student in the School of Nursing, where he holds a position as a graduate research assistant. His research interests focus on health disparities among homeless adolescents and engaging with community organizations to provide services to homeless youth.
Devin McBride, School of Medicine
Originally from Ithaca, New York, Devin McBride received a bachelor of science in economics from Syracuse University in 2008. She graduated with a degree of distinction after completing a thesis project on the impact of mega-multi mall development on local communities. While earning a second bachelor's degree in environmental engineering, she was involved in multiple research projects including biomedical research, which first sparked her interest in medicine. After moving to Louisville in 2012, McBride began working in the emergency room as a scribe and volunteered with the Kentucky Waterway Alliance. She has been involved in numerous other research projects in Louisville, and presented posters at the Kentucky Academy of Science Annual Meeting and Research!Louisville.
Currently, McBride is a student director at the Family Community Clinic, is co-president of the student LGBTQ group HSC Pride, and is involved in health-care politics as a member of Students for a National Health Plan. She plans to research health disparities in the LGBTQ community.
Morgan Pearson, School of Dentistry
A native of Louisville, Morgan D. Pearson is a second-year student in the School of Dentistry. As a child, Pearson experienced a traumatic injury, resulting from an automobile accident that required her to have multiple surgeries. Because of the expert and compassionate care she received, she decided early on that she wanted a career in the health sciences field, ultimately choosing dentistry. Pearson is a 2015 graduate of Murray State University, where she earned a bachelor of science in biology with minors in music and chemistry. She attended UofL's Summer Medical and Dental Education Program (SMDEP) and MCAT/DAT workshop before deciding on a career in dentistry over medicine.
Pearson has had a heart for service since she was a child. From age 11 through 17, she volunteered at the VA Medical Center in various capacities. After going away to college, she volunteered at the VA during summer breaks. At Murray State University, Pearson mentored and tutored incoming freshmen to ensure their success. As a dentist, Pearson will focus on community dentistry, continuing to serve those who are disadvantaged because of their inability to pay or to access care.
From applications received from doctoral students in the Schools of Dentistry, Medicine, Nursing and Public Health and Information Sciences, scholars are selected based on their commitment to social justice and health equity. They will engage in a three-year program designed to help them learn techniques for working interprofessionally and with community members to improve the overall health of local residents. Scholars will develop projects that include community-based research conducted along with a faculty mentor and a report prepared for scholarly publication. In addition, they participate in community service projects and attend monthly discussions.
UofL's HSC Health and Social Justice Scholars program is administered by the HSC Office of Diversity and Inclusion and directed by Katie Leslie, PhD.