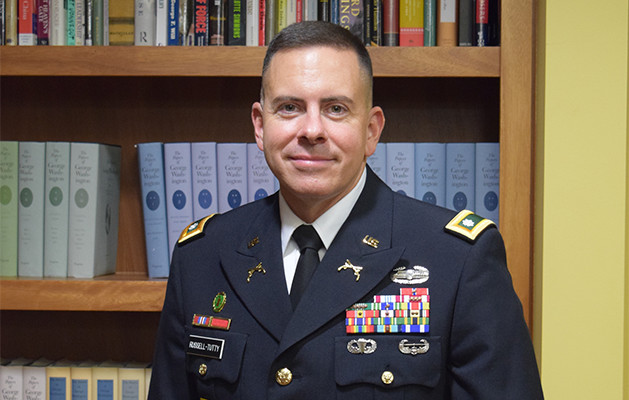 When Lt. Col. Thomas Russell-Tutty decided it was time to take the next step in his U.S. Army career, his first choice was the Army War College Fellow program at the University of Louisville.
In its second year, the program allows Army leaders to spend a year conducting Army research and outreach while auditing classes to sharpen their leadership skills and broaden their outlook as strategic thinkers. He is one of 88 U.S. Army War College Fellows serving at leading U.S. universities, U.S. government departments and government-funded agencies, think tanks, with industry and representing the U.S. at four foreign senior military colleges.
Russell-Tutty, 44, is a military police officer who most recently oversaw felony investigations for the Army as deputy commander of the 6th Military Police Group (CID), which is responsible for an area that covers half of the globe.
He said he liked that the UofL program offers classes at UofL's Southern Police Institute and the College of Education and Human Development, as well as activities at the McConnell Center, where he spends time with the McConnell Scholars.
"I interact with them, give them a different perspective," he said. "The Army is all about mentorship."
A Lexington native, Russell-Tutty graduated from Eastern Kentucky University and earned a master's degree in human services from Murray State University while stationed at Fort Campbell. During his 20-plus years in the Army, he's moved 13 times, and his current home is in Olympia, Washington, where his wife and 12-year-old daughter stayed while he completes his program. He has had assignments in Korea, Germany, Italy, Iraq and Afghanistan.
As part of the fellows program, he will have a chance to shadow CEHD Dean Ann Larson and her staff, as well as participate in UofL leadership boards. He also met recently with Louisville Metro Police Chief Steve Conrad and has given talks to veterans.
Russell-Tutty has received numerous military awards and decorations including the Bronze Star Medal, the Meritorious Service Medal, the Army Commendation Medal, the Iraqi Campaign Medal, the Afghanistan Campaign Medal, the Combat Action Badge, the 2005 Military Police School Instructor of the Year and the Military Police Corps' Order of the Marechaussee in Bronze.
This year spent at UofL will help him think beyond the traditional standards-based scenarios at the tactical and operational levels of leadership. At a higher level, Army leaders think strategically to maneuver through gray areas, he said.
Russell-Tutty said he is enjoying the change of pace and is learning from his fellow students as well as his professors.
"A college campus is a reflection of what's out there," he said.