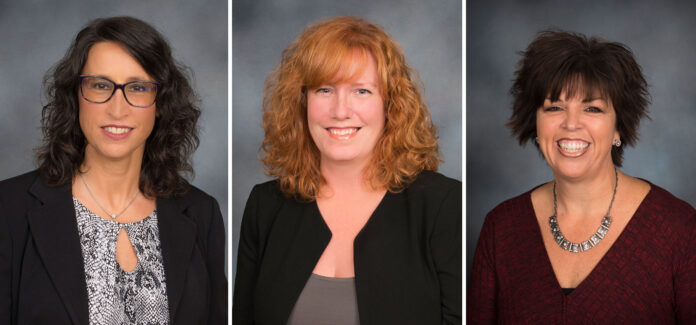 In the early months of 2020, concerns about COVID-19 grew rapidly. The need quickly arose for a dependable resource center that could field questions and concerns about COVID-19 protocols and operations for our campus community. The Business Operations Customer Service and Quality Improvement team (which typically provides support with time reporting and new hire processes) stepped up to that challenge and transformed themselves into the Business Operations COVID Support Team within only 72 hours.
This small but mighty team of six employees answers phone calls, live chats and e-mails from the campus community including faculty, staff, students and parents. Since March, they have responded to over 1,200 questions and concerns related to the university's COVID-19 response. The team has addressed nearly 13,000 business operations related questions in 2020 alone. In order to accommodate the additional COVID-19 support duties, the team reprioritized their work and met each morning at 8 a.m. to review the latest information, while also spending many late evenings summarizing daily data for senior leaders and the Coordinating Committee.
UofL News had an opportunity to sit down with the lead members of the COVID Support Team to discuss their workload, challenges and how they approach such a large volume of inquiries: Melissa Long Shuter, executive director of operations support services; Pamela Frank, director of customer service and quality improvement; and Cheryl Capito Paul, business operations manager.
UofL News: What were the challenges originally faced by the COVID Support Team?
Melissa Long Shuter: Our team existed before COVID, so we took on the additional work. The team did a great job of anticipating the questions from the people that would call, so we were able to pull that information together and refine the FAQS (on the UofL COVID-19 website). The major challenge was really met well in advance of COVID. The challenge was having a team that is agile, nimble and willing to take on new challenges quickly. We already had that in place.
UofL News: What are the most common questions that your team receives? 
Pamela Frank: How do they get their (COVID-19 test) results. That's why we have so much information available on FAQs now, because we get so many questions from people that haven't gotten their results and want to know how to get them. Then I would say how to sign up for testing, when it is available, and what locations are open. We keep that information handy.
UofL News: How does your team update COVID-19 information?
Cheryl Capito Paul: Our goal is to answer questions consistently and to make sure it's accurate information that we are giving. We make sure that we are current on all the changing information, which can change on a dime. We are also intimate with the website to ensure that our information changes as the most current information on the virus is available.
UofL News: Which form of communicating with the COVID Support team is most utilized?
Pamela Frank: The majority of questions that we get come through e-mail. They e-mail it and it goes right into our system. And then phone next, followed by chat.
UofL News: How have you handled the high volume of work?
Melissa Long Shuter: There were days when everybody was just kind of exhausted. There were a lot of late nights where Pam, Cheryl and I were connecting well into the evening to make sure the Pivot (Coordinating) Committee had timely data. Particularly in the early days, it was so important for us to get those FAQs refined and to understand how people in our community were responding to COVID from a personal standpoint.
UofL News: How do you handle the high-stress calls coming in?
Cheryl Capito Paul: We stress being sympathetic and being empathetic because we know that these can be high stress, high anxiety calls coming in. So, we have to check on our own team and say, 'how are you doing? If you need a break, take a break, let us know.' We have to be sympathetic, empathetic, and have the patience to take call after call after call.
UofL News: When can questions or concerns be submitted to the COVID Support Team?
Pamela Frank: We always have a line available. And we've had a lot of people comment on that. They've called other places but haven't gotten an answer, and they say they're so happy to talk to us. We get a lot of calls and emails that come in after hours, and then we can follow up with them in the morning.
UofL News: How has the Covid Support Team handled questions they do not have answers to? 
Melissa Long Shuter: Our daily reports to the Pivot Committee include all the types of questions that came in, as well as questions we didn't have answers to yet. Often times, the Pivot Committee would be responding and giving answers overnight. We would then meet at 8 a.m. each morning and review any new information from the prior 24 hours.
Cheryl Capito Paul: We also came up with an escalation plan within our team to get questions to the correct areas within the university. Within our team, they would escalate those questions to myself or Pam, and then we would have our cheat sheet of people to send that question to. If it wasn't answered right away, we would fall back onto the daily report with the outstanding questions that need to be answered.
UofL News: What is one thing you would like the university community to know about the COVID Support Team?
Melissa Long Shuter: We sincerely care about the person on the other end of the inquiry.  We value their feedback. Even if we can't get the answer, we'll get them connected to someone who can if there is an answer.
University members with questions or concerns about the university's COVID-19 protocols and operations can call, email or live chat with a member of the Business Operations COVID Support Team Monday through Friday from 8 a.m. to 5 p.m. The team will not be available during the winter break and will resume their support services Jan. 4.
UofL News did not have the opportunity to interview all six members of the Business Operations COVID Support Team. The other three team members who have also worked tirelessly on the frontlines of the COVID call center are Donna Casey, Allie Jones and John Spivey.