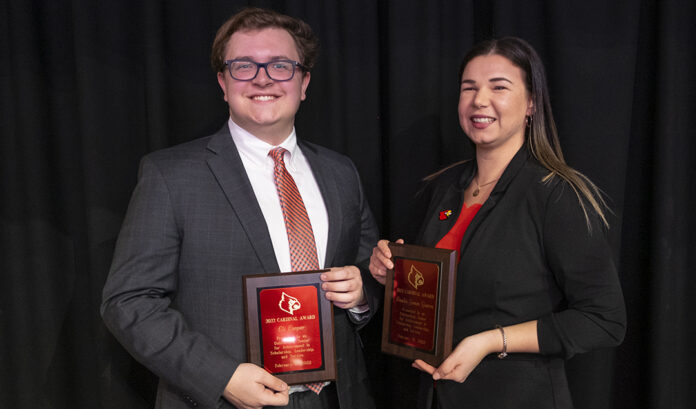 Amalia Gamez Guerra and Eli Cooper have been named the 2022 Cardinal Award winners and were recently recognized at a UofL Men's Basketball game. 
Gamez moved to Louisville five years ago from her hometown of Holguin, Cuba. She is a Finance major who serves as a counselor in the Office of Admissions for Hispanic/Latinx students. She is also involved in the Hispanic and Latin@ Faculty and Staff Association and the Louisville Welcome Academy. 
She chose to attend UofL because it was "full of academic opportunities, research, a beautiful campus, but a place I knew I was going to be welcomed." 
Cooper, a Social Change and Political Science major from Owensboro, chose to attend UofL because "it was in a community I could connect with and get engaged with. It was also home to a lot of diverse opinions and diverse people." 
Cooper is part of the James Graham Brown Fellows Program and is the services VP for the Student Government Association, as well as a U.S. Department of State intern. 
"I'm not only part of the Louisville community, but I'm also part of the UofL community and I'm using my passion to make both of these things better," Cooper said. "My experience at UofL is going to help me move beyond and be even more impactful in the type of work I want to do." 
Check out more from Gamez and Cooper below.