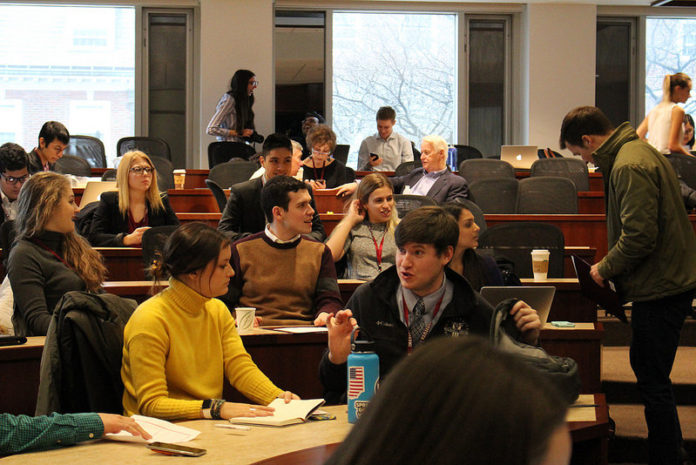 The United States is anything but united when it comes to discussing politics, especially in the wake of the most recent presidential election. That's why the McConnell Center has partnered with Harvard University's Institute of Politics and a select group of other institutions to promote a national campaign designed to help bridge the political divide.
Harvard's "Reconnecting America" national campaign, formed following the 2016 election, identifies the root causes of national divisiveness and encourages community-based action plans that address those issues. McConnell Scholars Robert Gassman and Frank Bencomo attended the campaign kickoff and are creating programming targeted at the next generation of voters – local middle school children.
"What we want to do is instill in this younger generation how to have healthy civic dialogue and teach them how to be able to talk about important issues without having this polarized, toxic atmosphere," Gassman said. "We thought this programming would be valuable to that age group because if we can get to them before they are polarized in high school then there would be a healthier dialogue moving forward."
"We seem to have this sports team attitude when it comes to politics – with scoreboards and who's winning and losing – that is dividing us," Bencomo said. "We want to start them on a path so they can understand that these issues have history, are complex and based on policy, not just personal views."
The two scholars have worked with local school teachers this semester to develop age-appropriate lesson plans and resources and they plan to launch the pilot program this fall as part of Constitution Week. The program will specifically target 11-and-12-year-old JCPS students.
"Robert and Frank walked away from the Harvard conference energized and ready to challenge the politically divisive rhetoric in our country," said GlyptusAnn Grider Jones, the McConnell Center's adviser for the Harvard IOP partnership. "They identified the U.S. Constitution as a tool to engage middle school students in the constitutional amendment process and help illustrate how student voices matter in politics."
The McConnell Center has been part of the Harvard IOP's National Campaign conference since 2010.