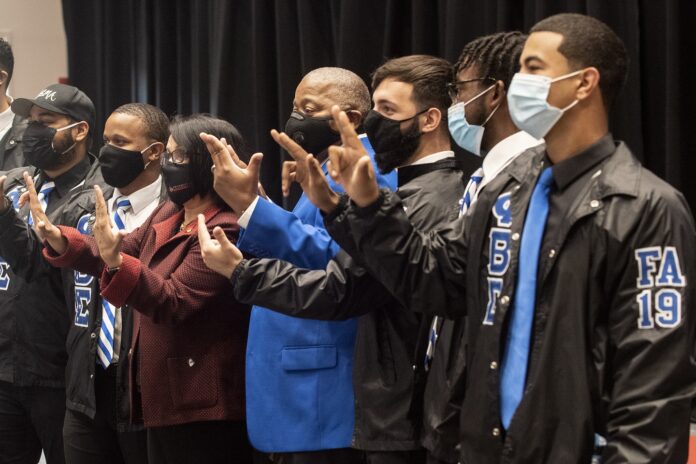 New markers that celebrate the history of the National Pan-Hellenic Council, a group of nine traditionally Black fraternities and sororities that have been part of UofL for nearly three decades, are the latest addition to the Belknap Campus.  
The markers were unveiled Oct. 23 in the plaza between the Belknap Academic Building and the Student Activities Center. 
The 10 markers—one representing NPHC overall and nine representing each affiliated Greek fraternity and sorority—were planned and designed by students. 
Founded in 1930 at Howard University in Washington D.C., NPHC supports Black college students who seek the benefits of a Greek organization, especially collegial collaboration, peer activism and a robust campus life.   
Political science senior Brandon McClain, who spoke at the unveiling ceremony, said NPHC's mission is to work "toward advancing the social and economic status of African American and other persons of color through lifelong brotherhood and sisterhood."
McClain, who is also vice president of the university's NPHC and president of Alpha Phi Alpha Fraternity Inc., said the plots serve as a reminder that "the University of Louisville National Pan-Hellenic Council is strong and united. This campus is better because we are here."
"I don't need to tell you how much Black Greek life has meant to Black life in this country. If you think about the leadership, the scholars, the activists that are right here in our midst today, the debt we owe is incredible," said UofL President Neeli Bendapudi during the virtual ceremony.
Dean of Students and Chief Student Affairs Officer Michael Mardis said conversations have been ongoing about having a physical, permanent location on campus to recognize NPHC. 
"With some of the renovations underway, the idea came up and the students thought maybe we could utilize the plaza space," Mardis said. "Our goal every day at the university is to make sure every student has a place to belong and an opportunity to succeed and achieve their goals."
Members of NPHC and its Black fraternities and sororities have a strong record of overall student success including higher grade point averages and higher graduation rates than non-Greek students. NPHC members are typically active in leadership roles as both students and alumni.
For alumna Terina Matthews-Davis ('93) the NPHC plots are a gratifying milestone in a journey she helped launch. In the early 1990s, Matthews-Davis was part of a group dedicated to establishing NPHC at UofL.  
"We saw all of our friends at other schools with NPHC chapters and saw an opportunity to govern ourselves," she said. "We wanted something where we could have intimate, and sometimes controversial, conversations amongst like-minded people." 
Mardis said that while NPHC has been linked with UofL for nearly 30 years, not all council-affiliated chapters—often called the Divine Nine—were active during those decades.
"By April, 2012, all Divine Nine were back on campus and it was truly a great celebration," Mardis said. 
The Black fraternity and sorority chapters under the NPHC umbrella are Alpha Kappa Alpha Sorority Inc., Alpha Phi Alpha Fraternity Inc., Delta Sigma Theta Sorority Inc., Iota Phi Theta Fraternity, Inc., Kappa Alpha Psi Fraternity Inc., Omega Psi Phi Fraternity Inc., Phi Beta Sigma Fraternity Inc., Sigma Gamma Rho Sorority Inc. and Zeta Phi Beta Sorority Inc. 
Photos of the marker dedication available here. To watch a video of the virtual event, click here.