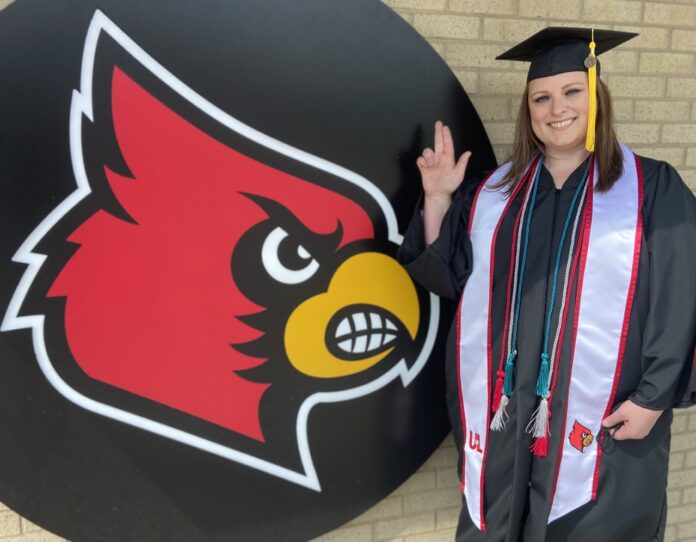 Christel Blocker made a promise to herself that she would cross the stage at her college graduation before she turned 40. On May 8, the selfless veteran and mom of three will do just that.
Growing up, Blocker loved to learn. She placed a high priority on education and academia, so when the Louisville native graduated from Seneca High School in 2000, as a surprise to many, she chose to join the United States Marine Corps. While at Camp Lejeune in North Carolina, Blocker became an Honor Graduate – a distinction awarded to the graduate who best exemplifies what it means to be a marine – while gaining knowledge of the world and learning from those with different lived experiences.
"I felt like I needed to get out of my bubble of Louisville to appreciate the world and learn about different people and cultures," Blocker said. "I stayed stateside, but I met a lot of diverse, interesting people and learned a lot of life lessons from them."
After spending more than two years in the Marine Corps, Blocker became a mom in 2004. Shortly after her son, Cameron, was born, he was diagnosed with autism and epilepsy, which inspired her to begin advocating for children and adults with autism and disabilities.
Blocker took on her next journey with a 12-year career with the United States Postal Service as a sales, service and distribution clerk. During that time, she married her husband, Shane, and became a stepmother to her Shanna and Raven.
While working for USPS, as the true lifelong learner she is, Blocker got to know and learn from people in the diverse communities she served.
Throughout the years, the goal of ultimately getting a college education remained in her mind. Blocker took classes here and there, sprinkling them in where she could, but it wasn't until she got a job as a Program Assistant for Academic Services at UofL's Thorntons Academic Center of Excellence that she really made it a top priority.
"I didn't appreciate my journey at the time," Blocker said. "I was going to work for a university and I didn't have my degree but once I got [to UofL] I knew that this was where I was called to be."
Blocker realized that she had the opportunity to take six credit hours per semester at no cost as a UofL employee, so in January of 2020, she set out to obtain her degree. She started building upon the courses she'd sporadically taken over the years to work toward a bachelor of Science in Organizational Leadership. Full of ambition and a realization that she could meet her self-imposed deadline of earning a degree before 40, Blocker doubled and even tripled up on her course load.
With a busy schedule and lofty goals, online learning was just what the working mom needed.
"I'm an online learner all day long," Blocker said. "I can rewind and hit pause when I need to take care of something else. I can work on it when my son is in therapy and I also feel like I retain so much more seeing things written down."
In addition to her role as a program assistant, Blocker serves as a supervisor for the federal work study program, serves on the Strategically Organizing Against Racism (SOAR) committee, and serves as an advisor for international student athletes in the Louisville International Family Enrichment (LIFE) program.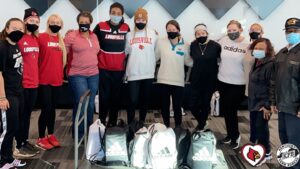 "I want to show people that leadership can come from any level," Blocker said. "It doesn't matter if [we're] in an entry-level job, we can make a change. If you help one person, that one person can help five people, and then 10 people."
Though Blocker's path to graduation has not been traditional, she wouldn't have it any other way. The experiences and knowledge she gained from her time in the Marine Corps and with USPS gave her tools that she said she wouldn't have had right out of high school.
Just 16 months after beginning her coursework, Blocker is set to become a first-generation graduate as a member of the Dean's List.
"I have a very supportive family," Blocker said. "My son thinks it's so cool that mom goes to school and I feel like he gets inspiration seeing me do it." 
Following graduation, Blocker hopes to pursue a master's degree in Higher Education Administration. After that, her biggest goal is to apply her laundry list of passions – of which, there's a common theme – empowering others.
"Passion fuels my purpose," Blocker said. "I want to empower other people to be the best they can be – underrepresented communities, people with autism and disabilities and marginalized societies. If you listen, you learn so much. Even if [we're] different, we can all grow together."