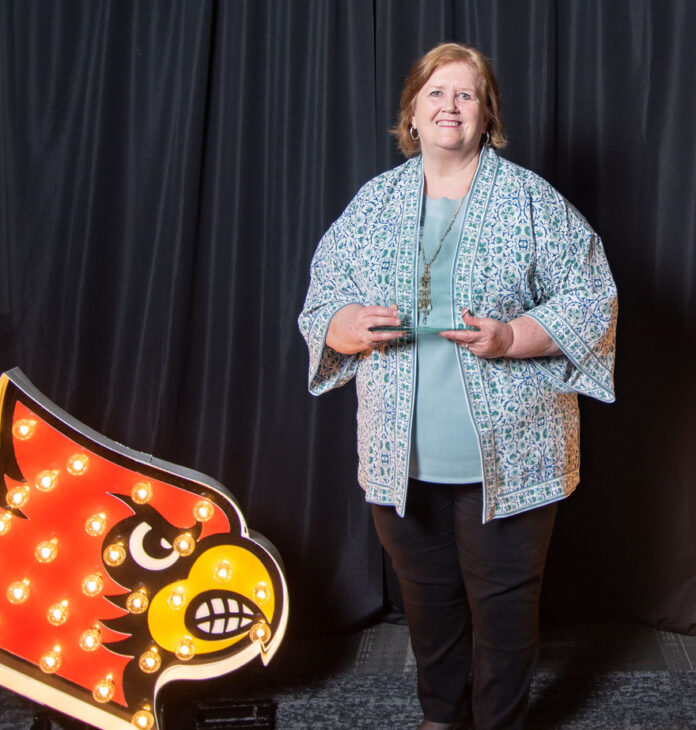 For her longtime and tireless commitment to her role on the University of Louisville's staff and her positive impact on the Cardinal community, Margaret Pentecost has been awarded the George J. Howe Distinguished Staff Award.
The annual award, presented by the University of Louisville's Employee Success Center, recognizes the contributions of an extraordinary University of Louisville staff member who exemplifies the traits of its namesake George J. Howe (humility, generosity and excellence in leadership) as well as the Cardinal Principles. This staff member's career has had an exceptional impact on the university and its vision of being a great place to learn, discover, connect and work.
Pentecost, assistant dean for the Office of Graduate Student Success (GSS) in the College of Education and Human Development, was presented with the award at the 2023 Presidential Excellence Awards reception, which took place April 13.
From the nominations which were submitted in support of Pentecost, her colleagues said that she is "known to be fiercely protective of the student, faculty and staff experience and has the ability to advance positive outcomes for all involved in a situation regardless of their role, often without them ever knowing she's done it."
Pentecost, who has been with the university for more than 31 years, along with her team in the GSS office, provides resources and services that serve the needs of UofL graduate students academically, professionally and socially. The GSS serves as a centralized hub for graduate student success and helps build a community among the graduate student population. Pentecost has served on multiple campus committees and led international learning experiences for UofL students. She is an active volunteer on campus and in the community.
"I am deeply touched to receive this award," said Pentecost, a three-time College of Education and Human Development graduate. "I have been fortunate to do the work that I love for more than 30 years alongside our amazing students and colleagues. It is very rewarding to assist our students as they strive to reach their goals. UofL has provided me with many opportunities to learn, grow and serve, and I am incredibly grateful to my UofL community for sharing my journey."