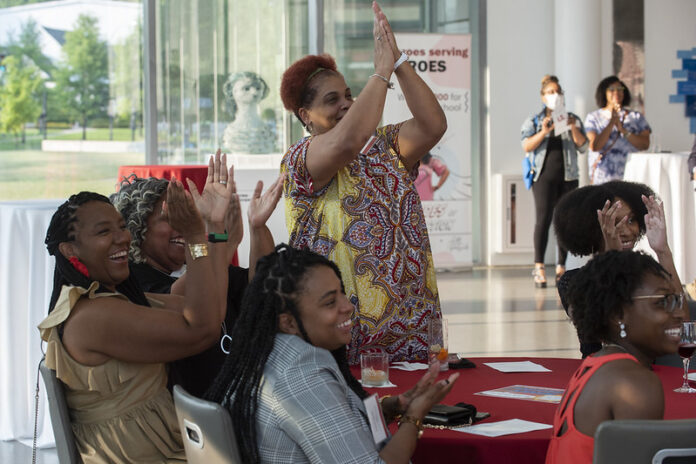 After graduation of the inaugural class of students in May, the second group of Louisville Teacher Residency students pick up the baton to begin the one-year, urban teacher preparation program.
The goal is to create a diverse teacher workforce within Jefferson County Public Schools that transforms educational outcomes of all students through courageous conversations, racially equitable instruction, culturally responsive teaching and meaningful reflection. 
Hosted by the College of Education and Human Development in collaboration with Class Act Federal Credit Union, a recent reception at the Speed Art Museum celebrated both recent graduates and the incoming class of residents.
"It's our honor to celebrate this program, both for the experiences of the students as well as the impact we know it has made in the community," said CEHD Interim Dean Amy Lingo.
Nakhaya Douglas, an alumna of the program and a sixth grade math teacher at Thomas Jefferson Middle School provided incoming residents with advice.
"You need to have support, self-care and a standard," she said. "There are going to be days where you want to say, 'I'm done.' Do not give up. Find whatever it is that keeps you going and believing in your future."
UofL's CEHD Director of Multiple Teaching Pathways, Stefanie Wooten-Burnett, says the LTR program is important for the success of all JCPS students.
"When I graduated from UofL's master's in teaching program in 2004, I was the only candidate of color," Wooten-Burnett said. "When I think back on that, it was both depressing and daunting because we were going to work in schools with kids who looked like me, looked like my husband who is white and looked like my beautiful mixed children."
JCPS superintendent Marty Pollio urged the incoming residents and recent graduates to remember the importance of their work.
"Kids lives are on the line," Pollio said. "If I haven't learned nothing else in my 24 years in JCPS, I have learned this: every interaction you have with a kid is a chance to change their life."   
View the LTR reception photo gallery.