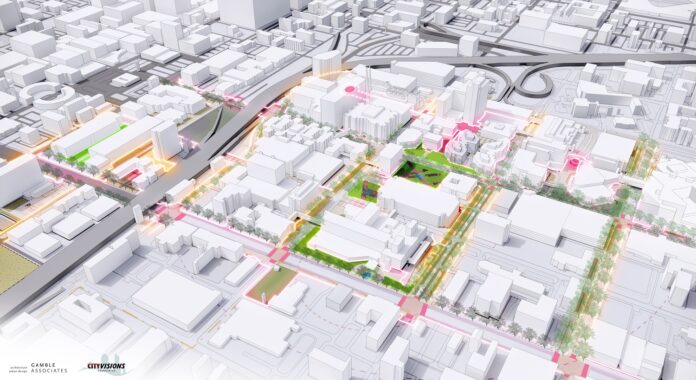 The Louisville Medical and Education District (LOUMED) this week announced its development strategy, taking its first step towards revitalizing and shaping the vital district known as the heartbeat of Louisville. The UofL Health Sciences Center and UofL Health are anchor institutions for the project, along with Jefferson Community & Technical College and Norton Healthcare.
To make LOUMED a world-class destination, its partners launched their effort in 2021 by conducting an in-depth economic impact report, forming a nine-person board equally representing each partner.
LOUMED's shared goal of building tomorrow's world-class medical and education district takes world-class urban planners and designers who have success in revitalizing complex urban districts. City Visions Associates and Gamble Associates have joined the LOUMED team and have proven successes at Rochester's Destination Medical Center, Boston's Longwood Medical Area and the Buffalo Niagara Medical Campus.
"The Louisville Medical and Education District deserves a high-quality public realm commensurate with its high-quality of care, research and education," says David Gamble, principal of Gamble Associates.
The strategic plan is designed to improve both the realities and perceptions of public safety, easier and more welcoming access to LOUMED, improved ease of circulation within the campus, both for pedestrians and vehicles and provides a greener campus with areas for employees, patients and visitors to relax. The LOUMED partners are also in discussions with Block by Block to provide security and maintenance services within the LOUMED campus.
"LOUMED is a hub of activity for patients, visitors, employees, students and researchers," said Barry Alberts, CityVisions Associates' managing partner. "The campus must be a welcoming, safe and comfortable place for every one of them. The LOUMED partners are committed to taking the necessary actions, as well as working with Louisville Metro and the Commonwealth of Kentucky, to ensure that it best meets these goals."
The LOUMED partners have already worked to cultivate gardens, outdoor gathering spaces, plazas and drop-off areas on their respective properties. Collectively, these "pocket parks" form the framework for navigating the campus, better connecting into a campus-wide network.
The Framework Plan leverages the existence of these institutional spaces and reinforces the pathways between them.
First Street leverages JCTC's recent developments and centers new growth around a future campus quad and arts-inspired corridor that crosses Broadway.
A vacant city-owned correctional facility near Norton Children's Hospital is transformed into "LOUMED Gardens," a new central gathering space for all families and care givers to gather and relax.
One of the University of Louisville Health Sciences Center's first buildings along Chestnut Street becomes the centerpiece of a connected network of pathways.
Abraham Flexner Way – already an informal pedestrian pathway for UofL Health – will be improved with new landscaping, lighting, seating, signage, and crosswalks.
The future of LOUMED offers a safe, clean, well-maintained, and well-lit environment, a memorable public space network, ample and easily accessible parking areas, a strong sense of place, strong ties to adjacent neighborhoods with places to live, eat and shop, shared facilities and spaces and most importantly, an image that befits the educational, medical and scientific achievements that occur within its boundaries 365 days a year.