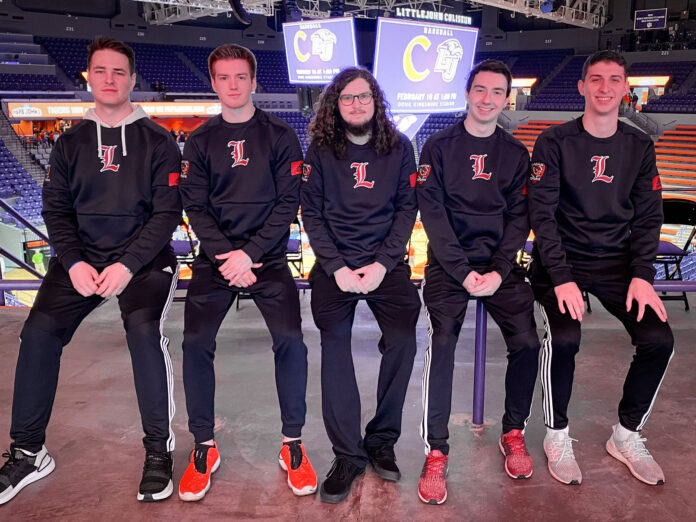 Competitive video gaming, also known as esports, has been on the rise for several years. With 20 million fans in the United States alone and a 15% year-over-year increase, it's safe to say the once-niche interest is here to stay.
Through the pandemic, as people around the world searched for something to occupy time at home, the esports community has grown even faster. In 2020, more than 14 million college students played video games – whether casually, socially or competitively – averaging about 8.2 hours spent gaming each week. At UofL, nearly 200 students have found a home in the up-and-coming Louisville Esports Club.
"Some people watch movies, some people go to the gym and some people play games as their outlet and I think that's true for many of our students," said Louisville Esports staff advisor Matt Banker.
Though the club has been in existence for several years, it wasn't until the current club president Braden Hensley's freshman year that it really took off. 
As part of an assignment for an English class in the spring of 2018, Hensley had to write about something he enjoyed. Growing up playing video games with two older brothers, esports seemed like the simplest choice.
"Collegiate esports was kind of becoming a thing," Hensley said. "I did a bunch of research on it and realized that this was going to be the real deal. I reached out [to the club at the time] and they said they were going to be closing down the club because of a lack of interest."
However, Hensley saw the way esports was growing and knew that the club had potential. He knew how much he and his peers enjoyed playing video games, so how could there be a lack of interest?
His "simple choice" for a freshman English assignment morphed into a multi-year endeavor as he dove head first into the club and became its president. That summer, the Mechanical Engineering major reworked the club's constitution and entered the fall semester with the goal of creating an inclusive gaming space for students at the university. 
Open to students with a variety of abilities, levels of experience and interest, the club quickly grew as its leaders focused on building community.
"In the last three years we've had a new wave of interest from students," said Banker. "We've used that time as an incubation period to learn and develop our priorities. We have two prongs to this, the competitive side and the casual gaming side for those who want to get together for fun on a Friday night."
Although the in-person game nights have ceased over the last year, students have been able to stay connected through the club. Meetings and competitions were hosted virtually and the club has amassed roughly 600 members on its Discord server, a group chatting app popular among the gaming community.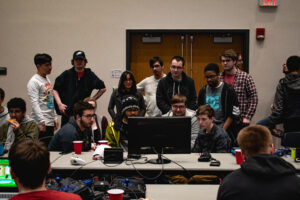 "It's nice to be able to have a place to go to chat and ask if anyone wants to play [a particular game]," said Hensley. "It's nice for those of us who can't get to campus but want to interact."
While the club attracts gamers at any level, about 50 members are involved in year-round competition against club teams from other institutions. With competition ranging from dual meetings to highly visible tournament play, the Cardinals have found quite a bit of success.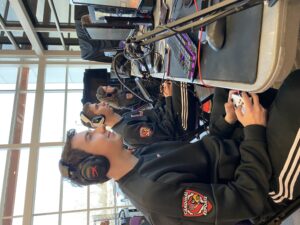 In the fall of 2020, esports clubs from 15 ACC institutions worked to form a student-run Atlantic Coast Esports (ACE) league, which coordinated game play around the ACC football schedule.
"If [our football team] was playing Clemson on a Saturday, for example, we'd play their esports team on a Friday night," said Banker.
The Cards can also boast last fall's inaugural Esports Governor's Cup win over the University of Kentucky.
"We played five games – League of Legends, Rocket League, Valorant, Madden and Minecraft – and won three," said Hensley. "That was a big win for us and it bridges the gap between gamers and other college students because they understand the rivalry."
The club also bridged that gap by hosting a collaborative Madden NFL 2021 event with Learfield, which has invested in esports nationally. The tournament brought UofL fans, alumni, students, faculty and staff together to apply their football fandom to competitive gaming.
"Lamar Jackson, who is on the cover of the game, was cool enough to tweet about the tournament," said Banker. "Ironically, the championship game teams were the Green Bay Packers with [UofL alums] Jaire Alexander and the Baltimore Ravens with Lamar Jackson."
Whether a student is interested in playing Madden NFL, Rocket League, or a classic like Mario Cart, the Louisville Esports Club has a home for them.
"It's a community that anyone can be a part of," said Hensley. "I encourage anyone that wants to get involved to get involved."
The Louisville Esports Club is hosting the Louisville Esports FIFA Challenge Series Presented By The US Air Force on Saturday, May 29 and Sunday, May 30 for those who would like to participate or watch.