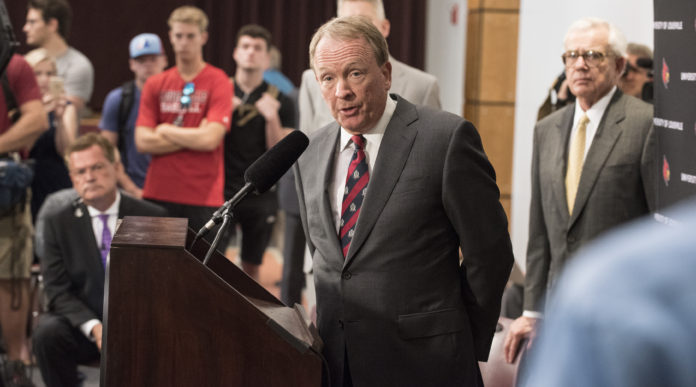 UofL's interim president Dr. Greg Postel was featured in a Q&A profile in Louisville Business First on Wednesday.
The article examined Postel's work since taking the reins nearly nine months ago amidst growing controversies, such as a $48 million budget deficit, academic probation from the university's accrediting body, and an FBI investigation into the men's basketball program.
"I've been at the university a long time and I wouldn't have agreed to do this if I didn't care so much about the place," Postel told the publication.
Highlights from the interview include:
Postel's family, including wife Sally, twin 7 year olds and golden doodle, help him balance a work/life schedule.
"I spend time with them every day. I get a good night's sleep every night. I get up early and exercise … I eat well. I'm organized … I think that people who are organized and rested and balanced are able to stay sharp."
Postel hopes to continue a tuition freeze, but it is still early in the budget development process and no decision has been made yet. "Our goal is to make school as affordable as possible," he said.
Postel also offered a piece of advice to new UofL graduates: "View your education as a tool, not a confining instrument … Stay open to possibilities and opportunities."
Finally, Postel said he tries to motivate employees by setting an example.
"If I'm trying to be fair and I'm in the office early and working hard and answering emails quickly and trying to raise money and doing the right kind of things, I hope people see that and try to do the same thing," he said.
The entire profile on the 55-year-old Canton, Ohio, native is available on the Business First website.