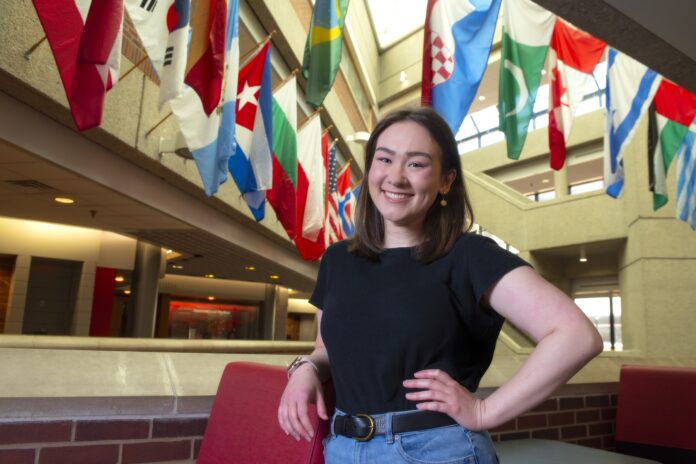 For rising third-year law student Sara Rastoder, her summer job is more than just a job — it's a connection to her family.
She is spending the summer in the Netherlands, working at the Office of the Prosecutor at the United Nations International Residual Mechanism for Criminal Tribunals.
This judicial body was established in 2010 to wrap up residual issues related to the Bosnian War and the Rwandan Civil War, including war crimes and crimes against humanity.
In the 1990s, Rastoder's father fled Bosnia during the fall of Yugoslavia. He made his way to an Italian refugee camp and eventually to Bowling Green, Kentucky, where his parents and sister later joined him. He met his wife in Bowling Green, where Rastoder was later born.
The office where she'll be working focuses on post-litigation of Yugoslavian war criminals. Proficiency in the Bosnian language was a requirement for the position, and Rastoder had grown up with the language.
"This is the opportunity to do what I'm really interested in and also have a personal tie to it," she said.
Rastoder has long felt a pull to international and humanitarian issues. She double majored in Arabic and international studies as an undergrad and is now a Human Rights Advocacy Fellow at the Brandeis School of Law. The Human Rights Advocacy Program works to advance the rights of immigrants, non-citizens and refugees. Rastoder had considered pursuing careers in diplomacy or international affairs, but ultimately decided to focus on international law.
"I wanted somewhere to apply my interests in languages, other cultures, humanitarianism – international law is where it all tied-in," she said. "It hasn't been an easy path, but I've never doubted that I'm on the right path."
She is grateful to Brandeis Law professor and international law expert Sara Ochs for her encouragement and professional advice.
Ochs says the opportunity is incredible.
"She'll be doing very unique international law work that I don't know that she'd have the opportunity to do in the United States," Ochs said. "Plus, she'll have the chance to be at the Hague and among the international law elite."
International criminal law is not often a big focus in the United States, Ochs says, but she is excited to teach a course on the topic in the 2022-23 academic year.
"Many people, especially Americans, don't realize how vital international law is until it's violated," she said, pointing to the Russian invasion of Ukraine as an example.
For Rastoder and her family, the importance of international law is not abstract. Her parents are "super excited" for her job, she says.
"They know this has been a dream of mine."