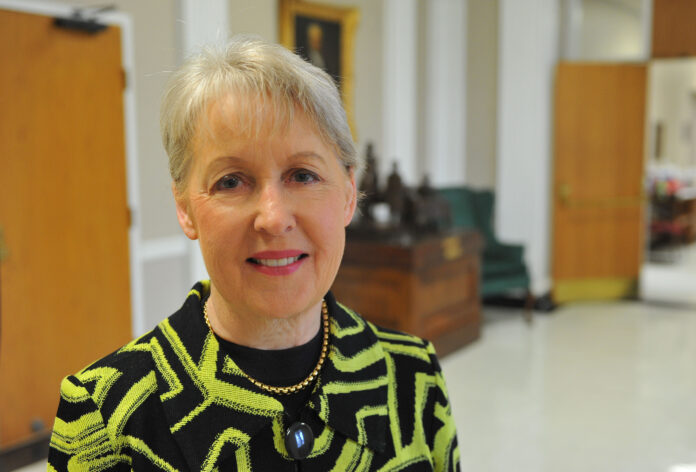 While serving as dean of the Brandeis School of Law in 2001, Laura Rothstein helped initiate a partnership between UofL and Central High School's Law and Government Magnet. 
Now 20 years strong, the relationship of the two schools illuminates the value UofL places on community engagement. The Cardinal influence through Central's law magnet represents a cornerstone of UofL's Signature Partnership Initiative in west Louisville. 
During a Louisville Bar Association event celebrating the partnership this month, Rothstein received an award as the 2021 LBA Diversity Trailblazer. UofL News caught up with her to talk about her life's work through the partnership. 
UofL News: Why did you become involved in the Central High School partnership? 
Rothstein: I had gone to law school because of my interest in social justice and race and gender issues, so this was a program that was a priority for me from the beginning. The goal of the program was not just to create a pipeline of students to becoming lawyers, but to encourage these high school students to become civically engaged and active citizens and leaders in other ways. Initially, the program involved an essay contest, and having Central students visit the law school or attend special events.   
UofL News: How did the program evolve over time? 
Rothstein: In 2005, after Joe Gutmann became the Law and Government Magnet teacher at Central, we decided to do more than 'spark the interest,' but to build the skills through having law students teach at Central. After I left the deanship in which I had served from 2000 to 2005, I was able to devote more time to developing and enhancing the program. I have also worked with the principals at Central and various departments on campus to replicate similar partnerships.  
UofL News: What impact do you hope to make on these high school students?  
Rothstein: We want them not just to become lawyers, we want them to be engaged civically. The questionnaires at the end of the year indicate that this goal has been met. They are more aware of and interested in current events. They have developed skills of analytical thinking and improved writing and communication skills that are useful in any higher education context and in life generally. Central graduates credit Joe Gutmann with giving them the confidence to succeed in college and beyond. 
UofL News: Do you know how many students involved in the Central High School Law and Government Magnet program went on to earn a Juris Doctor degree?  
Rothstein: I think there have been 35 Central graduates who have become (or will become) lawyers. I am counting three who are expected to graduate in 2022. We also know of at least two who plan to apply to law school in the next year or two. 
It's important to note that many of the law magnet graduates have also gone on to other significant professional careers and to obtain other graduate and professional degrees. For example, graduates since the partnership began include students who've earned a PhD in Agricultural Economics, a Master in Business, a Master in Public Health and a PhD Candidate in Pan African studies at UofL. Additionally, several individuals have become teachers.    
UofL News: Why is it a great opportunity for law students to be involved in teaching the high schoolers?   
Rothstein: We began an enhanced program in 2007 by incorporating law student taught coursework – Street Law for sophomores, Writing Skills for juniors, and Marshall-Brennan Civil Liberties for seniors. Each year about 25 law students receive public service and/or academic credit for this work. At the end of the year, law students often note that the experience has been eye-opening and many say it is the best thing they did in law school.    
UofL News: Why is this program and partnership with UofL so important?   
Rothstein: It is of value to both Central and UofL students, and it highlights the value that UofL places on community engagement with Louisville and the West End through its Signature Partnership Initiative, part of the UofL Office of Community Engagement.   
UofL News: What is the future of the program?   
Rothstein: We would like to add a program at the undergraduate level where Central students who attend UofL stay connected and engage in other activities. This includes things like staying involved with the law school, preparing for the LSAT and remaining connected with each other. Since the program began, there has been a significant increase in the number of Central High Law Magnet students attending and graduating from law schools. These law schools include UofL, UK, Washington University St. Louis and University of Chicago. We also continue to work with other UofL departments to develop similar partnerships at Central.