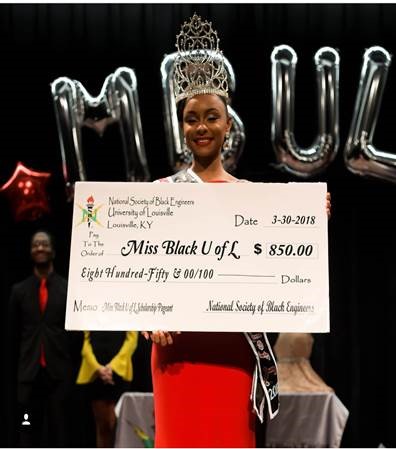 The Miss Black UofL pageant was held recently, raising $2,273.29 from ticket sales and a raffle. Most of that money will go to support the Family Scholar House.
Mikaylah Clipper, a public health major, was crowned Miss Black UofL 2018. Clipper also won the Professor Hart award, named after Brenda Hart, founder of the UofL chapter of NSBE. This award is given to the contestant who shows compassion for her community through service on and off campus. In addition to this title, Clipper also won $500 to support her platform and volunteer work against child sexual abuse awareness in the black community. She will work with the Exploited Children's Help organization. 
Other contestants this year included: Oby Igwe, Biology & Asian Studies; Ruth Metellus, Biology & Pan African Studies; Gzeonie Hampton, Political Science & English, minor in MEIS Social Change & Peace Studies; and Jalesia Johnson, Psychology. 
This year, instead of a swim suit competition, the contestants followed the theme, "Ladies of STEM." The audience was introduced to Alex Canady, Patricia Bath, Jane Cooke Wright, Henrietta Lacks, and Mami Phipps Clark; all African American women scientists.
NSBE members worked tirelessly to plan and organize this annual signature event, following their mission: "Bridging the Gap." 
Speed School seems so far away and that notion has prompted the feeling of seclusion on campus, explains Erica Gray, co-op advisor, Chemical and Electrical Engineering at the Speed School. "Bridging the Gap" began two years ago as a way to overcome that feeling of seclusion and to foster an initiative to do more "on the other side of campus."  
This year's judges were Dr. Tamara Adams, assistant professor, director of Undergraduate Studies, Yolanda Demaree, A&S Dean's Staff, Aaliyah Davis, Industrial Engineering student, Willis Lee, Speed School graduate student, Jamal McFarland, Mechanical Engineering alumni.