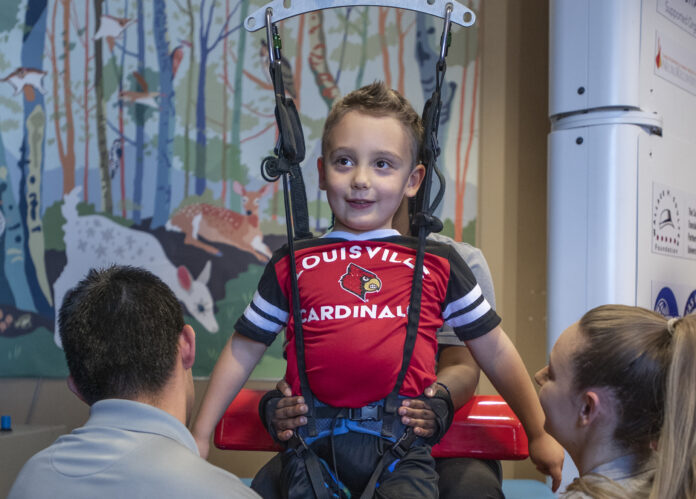 A relationship begun nearly 40 years ago is still going strong.
Since 1982, Kosair Charities has been a solidly dependable supporter of children's health programs at the University of Louisville. This year, total donations have reached more than $50.4 million.
Moving the total past the $50 million mark this year is over $1 million in funding from the charity – the largest in Kentuckiana – to support programs in pediatric forensic medicine, neuro-recovery and cancer research, along with the Center for Women & Infants at UofL Hospital.
"Kosair Charities has made immeasurable contributions to the University of Louisville, this community and beyond. I believe what makes a partnership great is a shared vision. And that is certainly the case with Kosair Charities and UofL," said UofL President Neeli Bendapudi. "Kosair Charities has given to so many areas across the University of Louisville, and the impact can be felt far and wide throughout our community, region and beyond."
"Louisville is my home, UofL my school, and Kosair Charities is my passion. It is special to be able to pull it all together to help children move forward," said Keith Inman, president of Kosair Charities. "For almost 100 years Kosair Charities has had one mission, one focus, and that is for children to overcome their obstacles and reach their full potential. For 38 of those years, the University of Louisville has been an important partner, as we have invested in research, programs, facilities and people at the university who can make that vision, that mission a reality."
The support is as important to UofL for its consistency as much the dollars donated, said UofL Vice President for Advancement Jasmine Farrier.
"All philanthropic gifts are impactful, but this level of extraordinary support given consistently over decades is truly transformational," Farrier said. "We are so fortunate to have Kosair Charities' commitment to our children's health programs."
Recent gifts made by Kosair Charities to the university have helped fund:
UofL Kosair Charities Division of Pediatric Forensic Medicine: Led by Dr. Melissa Currie, the first board-certified child abuse pediatrician in Kentucky, this division focuses on physical, mental and sexual abuse and neglect in children.
Kosair Charities Center for Pediatric NeuroRecovery: The gift from Kosair Charities targets paralysis in children with acute flaccid myelitis (AFM), a disease that affects the area of the spinal cord called gray matter, causing the muscles and reflexes in the body to become weak. Although occurrences are relatively rare, cases of AFM have been on a steady increase since 2014.
Kosair Charities UofL Brown Cancer Center Pediatric Cancer Research: Drawing upon the strengths of researchers and physicians in the UofL Health – Brown Cancer Center, this program applies immunotherapy – the use of the patient's own immune system – to fight children's cancer.
UofL Hospital's Center for Women & Infants: Kosair Charities funding enables the center to purchase upgraded infant warmers for its cutting-edge Neonatal Intensive Care Unit that cares for the tiniest and most vulnerable newborns.