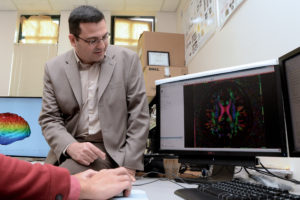 https://engineering.louisville.edu/It's the first University of Louisville project to receive money from three major translational research funding sources, and it could change the way doctors treat kidney transplant patients. UofL bioengineering professor Ayman El-Baz began looking for a non-invasive, less expensive way to detect signs of renal rejection in 2004 when his cousin suffered kidney failure and needed a transplant. El-Baz and Drs. Amy Dwyer and Garth Beache in the UofL School of Medicine worked together to develop RenalCAD, which uses an MRI instead of a biopsy to find signs of renal rejection.
"I like to work in science that can improve health care, especially if the patient is a relative." El-Baz said.
The project has now been funded by the Coulter Translational Partnership, NSF I-Corps and NSF AWARE:ACCESS, three funding programs aimed to get entrepreneurs and their inventions to the marketplace more quickly and successfully. The group has applied for patent protection and is collaborating with the University of Michigan on a clinical study. Louisville and Michigan are two of just 16 schools in the U.S. to receive funding from the Coulter Foundation.
"We would not have been able to do this without the Coulter funding ($223,000)," El-Baz said.
The money from I-Corps and AWARE:ACCESS has gone to support Isaac Gebru, a UofL Speed School of Engineering graduate who worked with El-Baz and has created a start-up company to commercialize and market the technology. Last year, I-Corps paid for Gebru to complete a UofL Foundation-sponsored training course for upstart businesses called LaunchIt while the AWARE:ACCESS program helps minority entrepreneurs, like Gebru, write more competitive grant proposals and hone their customer relations skills.
"I think this kidney project demonstrates the clear and distinct value of each of these three funding mechanisms," said Rob Keynton, director of Research Initiatives in the Office of the Executive Vice President for Research and lead investigator of the three awards. "Together, the awards help UofL faculty and students figure out their potential customer base, secure funding and get their innovations to the marketplace."