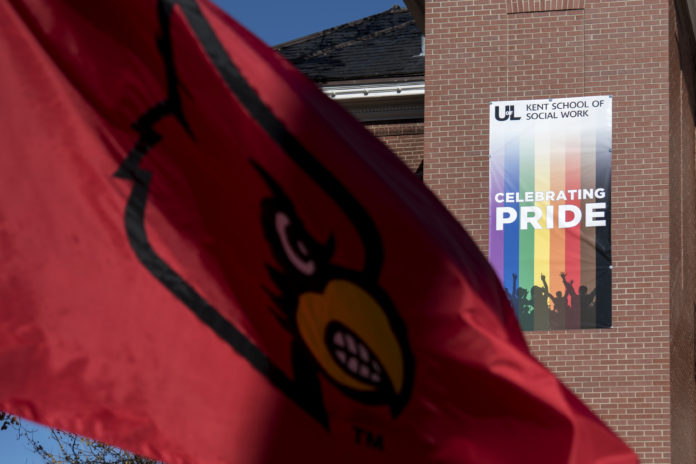 The Kent School of Social Work installed a Celebrate Pride banner on Patterson Hall, facing the corner of 3rd Street and Eastern Parkway.
The school calls the banner a "symbolic of our commitment to championing LGBTQ+ issues, promoting LGBTQ+ rights and affirming LGBTQ+ identities."
A commemoration ceremony was held Monday to officially unveil the banner, which includes the traditional rainbow colors, as well as a brown and black stripe.
"We really wanted to make sure that we honored all of the intersectional identities that are presented in the LGBTQ community, so that's why you see the brown and black stripes," said Kent professor Dr. Emma Sterrett, acknowledging the need to especially bring awareness to the disproportionate killings of trans women of color. 
Kent School Dean David Jenkins said he was excited about the opportunity to take a stance, and to "take a small step to be visible about social justice."
"The fight for dignity and equality is not done by just the LGBTQ community alone. We need everyone to be a part," Jenkins said. "Our work is not over." 
Some of that continued work, he added, includes: 
Better understand needs of older LGBTQ adults
Fight against harmful practices such as conversion therapies and making sure students have safe spaces
Remain committed to addressing health disparities in community
"A banner like this reminds us to be visible to be proud of who we are," Jenkins said. "LGBT individuals deserve to know they have others who stand beside them. The Kent school and UofL are part of the effort to make this a better and more just society."