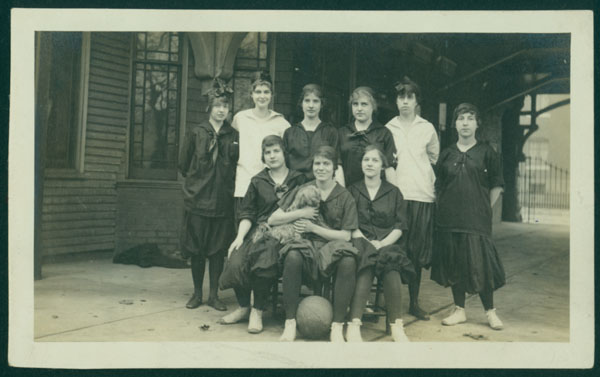 Editor's note: This blog was originally created by Archives and Special Collections director Carrie Daniels in 2013, but has been revisited (and slightly revised) to coincide with both March Madness and International Women's Day.
More than 100 years ago, in the fall of 1913, Florence Daisy McCallum began her career as a University of Louisville student and joined the "girls' basket ball team." She chronicled the team's triumphs and defeats, as well as their exploits off the court, in her "Basket Ball Journal." The journal is available in digital form as part of the University of Louisville Images digital collection.
Highlights include documentation of the team's handy defeat of University Kentucky – known then as State University – at Lexington in January 1914, with a repeat the next month on our home court. UofL's women had lost to UK the previous year, but the January win was so complete (with a score of 23 to 12) that "it well wiped out all memory of past defeats."
Our women's and men's teams also played each other that year — the men defeated the women 40-14. In addition to documenting the final (and disappointing) score in that game, this scrapbook tells the story of how these young people interacted. There are cartoons that hint at some interesting "guarding" of members of the opposite team, and others that underscore the height differences between the men and the women. It is apparent that these students knew each other well, and that they shared camaraderie as much as competition.
Given that there were only 203 students enrolled in the College of Arts and Sciences, it is not surprising that they knew each other well.  At least one member of the team, Charlotte Wimp, met her husband, Donald Butler, through basketball.
While the scrapbook holds many wonderful photographs of the team (sometimes including someone's dog – a mascot, perhaps?), the cartoons drawn of various events are especially sweet. In some cases their message is easy to read (for example, the cartoons from the game played between the men and women), and at other times they refer to what must have been inside jokes. But even though the specific meaning of these cartoons is lost, anyone who has been a teenager can relate to the image of "Shrimp" quaking before her "Ma" – while it's not clear whether she is coming or going, she is definitely afraid she is in trouble.
Scrapbooks like this, which are not just collections of newspaper clippings or photographs, but also contain commentary and other personal touches, help give us a sense of what it was like to be a student in earlier days. They show us what is different, and what is still very much the same.