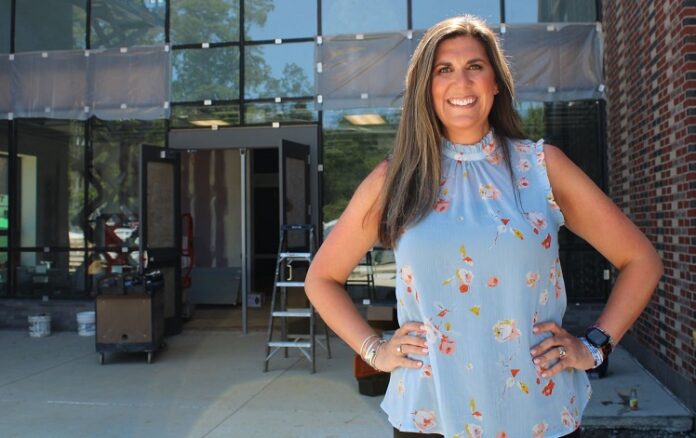 University of Louisville alumna Kara Ammerman has been named principal for Echo Trail Middle School, a new school opening in the Jefferson County Public Schools (JCPS) system this fall. The school, located off Shelbyville Road, will open with its inaugural sixth grade class on August 9, and eventually grow into a full middle school (grades 6-8) over the next two years.
Ammerman, a former UofL volleyball player and graduate of several UofL College of Education and Human Development (CEHD) programs, credits her career success to her years of academics and athletics at the university. 
"UofL has always felt like my second home," she said. "I have developed lifetime friendships through each program, degree and certification that have been pivotal in my life and career," Ammerman said. 
Her next journey will start this fall, where she is excited to reinvent how a school can look and feel.
"I am thrilled to have this once in a lifetime experience to open a brand-new school and build a strong sense of belonging with our students and community," said Ammerman. "We will be an 'explore school,' which gives students the opportunity to experience hands on learning in the following pathways: Engineering and Design, Business and Communications, and Consumer Sciences."
Ammerman began her academic and athletic career at UofL in 2003 as a volleyball recruit and garnered numerous accolades with her team, winning conference titles and advancing to the Sweet 16 twice.  
As an educator and scholar, Ammerman obtained a bachelor of science degree in health and human performance in 2007 and a master of arts in teaching in 2008. While working full-time in JCPS and starting her family, Ammerman also earned a specialist degree in educational administration with a concentration in principalship in 2013, and a doctorate of education in 2016. In May 2023, she completed her fifth credential from UofL's College of Education and Human Development (CEHD) – a rare accomplishment for any student.
Ammerman has worked in various roles throughout JCPS for 15 years, most recently serving as principal of Crosby Middle School where she led during the year of non-traditional instruction (NTI) during the pandemic. In 2021, she was named JCPS Middle School Principal of the Year by the Jefferson County Association of School Administrators.
"Throughout my career as a UofL student, I have always been treated like a person. Relationships matter and UofL professors and advisors have always made that the number one priority," said Ammerman. "I have always felt like they wanted me to be successful and were happy to engage with me outside of class."
By Tessa Chilton, College of Education and Human Development