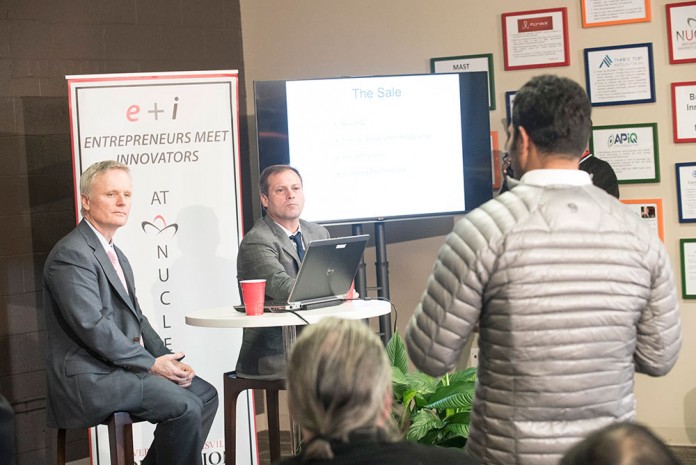 "You need to take the plunge because very few entrepreneurs are successful if they're part time." That was one of the strong pieces of advice from David Durik, founder of Louisville-based Indatus Corporation, as he and partner Phil Hawkins spoke to about 50 students, entrepreneurs and businesspeople at Nucleus' iHub Dec. 3. Durik and Hawkins were the presenters at the sixth Entrepreneurs Meet Innovators (e+i) program sponsored by Nucleus, a programming and development arm of the University of Louisville Foundation.
Durik and Hawkins built their company from an automated phone answering service for apartment complexes to a multi-million dollar data collection, sharing and analytics company that received a visit from President Obama in April. A couple months later, they sold Indatus to a Texas company for $49 million.
Two Oldham County High School graduates and best friends, Durik and Hawkins told the group that hard work and honesty set the foundation for the success of their firm. They say market research and paying attention to the way new technology might impact their business, positively or negatively, has been a key to maintaining and growing their success.
Durik said he comes from the "school of hard knocks" and has found "desperation necessitates invention."
Hawkins told the entrepreneurs that laughter in the workplace is important. "Don't be afraid to let employees laugh at you," he said while sharing a story about a company contest. "The best impersonation of me got a day off. That was pretty rough but very funny."
Nucleus' e+i series is designed to give startup company owners, entrepreneurs and students a chance to hear what successful local businesspeople did right and wrong on their way to the top. The program featuring Durik and Hawkins is scheduled to appear on one or more of KET's network of stations early next year.