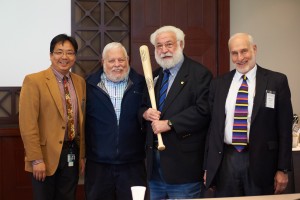 Nathan Berger, MD, the Hanna-Payne Professor of Experimental Medicine and director of the Center for Science, Health and Diversity at Case Western Reserve University, was given a Louisville Slugger bat for being the speaker at the first symposium honoring the late co-division chief of the Blood and Bone Marrow Transplantation Program at UofL. The Geoffrey P. Herzig, MD, Memorial Symposium for Hematologic Malignancies and Bone Marrow Transplantation drew a stellar cast of presenters April 8-9 at the Jewish Hospital Rudd Heart & Lung Conference Center.
Herzig came to UofL in 2000 as co-division chief with his brother, Roger Herzig, MD, shown second from left, and held the position until his death in 2013. The symposium was created by current division chief William Tse, MD, at far left, with another presenter, Hillard Lazarus, MD, the George & Edith Richman Professor and Distinguished Scientist in Cancer Research at Case Western Reserve, at far right.
Twenty-six physicians and other scientists from the United States, Canada and England presented the symposium, covering the latest advances in treating leukemias, myelomas and other blood-borne cancers.
(Robert Burge Photography)