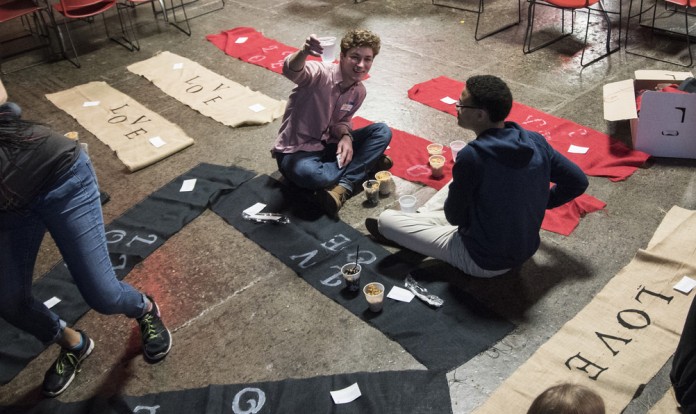 The banquet was designed to promote awareness of world hunger and the issues of poverty and malnutrition that face other countries as well as the United States. This year it was hosted by the Peace, Conflict and Social Justice Program and the Engage Lead Serve Board.
Participants were each assigned to different world income levels: high, middle and low class. The quality, amount and variety of food were based on the differing income levels to raise awareness of disparities. The high class dined on table cloths and ceramic dishware, the middle class were given paper products and bare tables, and the low class sat on the cold floor of the Red Barn eating rice and beans out of small plastic cups.
"I'm hoping the majority of people walk away knowing that not everyone eats the way we do," said Jacob Messmer, student intern in the Peace, Justice and Conflict Transformation program and the organizer of the event. "The goal is to expand the knowledge of world hunger and inspire people to help out locally."
Speakers at the event included Justin Mog, assistant to the provost for sustainability, and Donna Tribune, chaplain at Volunteers of America. Both speakers addressed some of the causes of world hunger and ways to combat them.
"Hunger is about inequality and political will," Mog said. "Hunger is something that we have the power to influence every day."