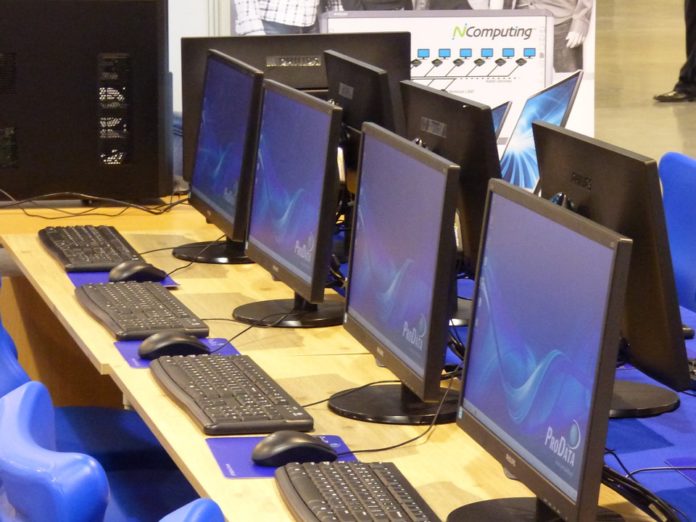 The city of Louisville was recently named among the "Next 25" for emerging tech talent markets in North America, with such employment growing by 31% in the last five years alone.
The University of Louisville is no doubt contributing to this trend.
According to CBRE's annal Scoring Tech Talent report, Louisville scores as the 13th top smaller market with potential for growth. The report cites employment, wage and tech degrees as contributing factors.
In 2019, Louisville had 641 tech degree graduates and while it may be hard to pinpoint how many of those are UofL alums specifically, many of our students stay in the city after graduation, taking advantage of the robust opportunities afforded by a metropolitan market with over 58,000 businesses, large and small.
We're not just contributing our graduates, however. We're developing tech-focused programs with the city, amplifying a town-and-gown synergy that has existed for more than 200 years. We're also training our students for the "workforce of tomorrow," adding new degree programs to meet the existing and growing need for tech-related jobs throughout the city, state and beyond.
UofL, for example, recently added a Bachelor of Arts in Computer Science undergraduate degree, facilitated by the Computer Science & Engineering Department in the J.B. Speed School of Engineering.
Other STEM-related programs that have been approved just since the start of the spring 2020 semester include artificial intelligence in medicine graduate certificate; materials and energy science MS; and a managerial analytics graduate certificate. Further, the College of Business recently added data analytics and a 100% online business education managerial analytics.
Technology moves fast and we are moving full speed ahead on approving and providing programs to keep pace. The new computer science program, for example, was developed explicitly in response to the growing need for technical jobs. The program offers students a chance to become well-equipped computer scientists and to excel in other areas of studies to match their interests.
These graduates would ideally be qualified for the 3,650 software developer and computing jobs posted in 2019 in the Louisville region alone. They might also be qualified for other occupations in the STEM field, which is expected to grow by 8% by 2029, compared to 3.7% for all other occupations, according to the U.S. Bureau of Labor Statistics.
In Kentucky, it is predicted that there will be a 15.9% increase in all computer-related jobs through 2026. UofL has positioned itself to fulfill this growing need, and we're not stopping at new programs and certificates.
In the past few years, we have also forged a partnership with IBM to establish an IBM Skills Academy to prepare the next-generation workforce. We collaborated on the FutureLou initiative, launched a Center for Digital Transformation, became part of a new Artificial Intelligence Innovation Consortium and more.
We also aren't limiting our opportunities to the campus community. In 2019, we partnered with the Humana Foundation and Interapt to bring a paid, immersive training program that teaches high-demand IT skills to the underemployed and unemployed in Louisville. We also joined the city to develop a partnership with Microsoft that established Louisville as a regional hub for AI, internet of things and data science.
This town-and-gown collaboration is why Louisville has been recognized by the CBRE for two straight years, according to Rebecca Fleischaker, co-chief of Louisville Forward and director of the Department of Economic Development.
"We are seeing our tech and data analytics ecosystem grow rapidly because of the expansion of our local companies like El Toro and Untitled, as well as critical partnerships with Microsoft, General Assembly and IBM," she said. "The University of Louisville is a major part of ensuring our tech talent pipeline is filled with a diversity of talent and qualifications, and we're thrilled with their addition of the IBM Skills Academy and a new BA in Computer Science and with the progress they've made in expanding enrollment in their tech-related degree programs."
Our work isn't even close to being done. Earlier this month, for example, the university launched UofL New Ventures, aimed at growing startup companies built on the university's research-backed technologies. There will be more partnerships, opportunities and degrees, all added with a focus on growing the tech talent pipeline in our city.
"Strong town-gown partnerships are important for any city to be competitive for job growth and economic development opportunities," said Joshua McKee, senior economic & workforce development manager at Louisville Forward, Department of Economic Development. "Our relationship with UofL and its administrators is vital to the success of our city, and our goal of increasing tech education and job growth. As a UofL alum, I am thrilled to see the university soliciting feedback from industry, government, and consultants to develop in-demand and industry-responsive curriculum and degree programs."