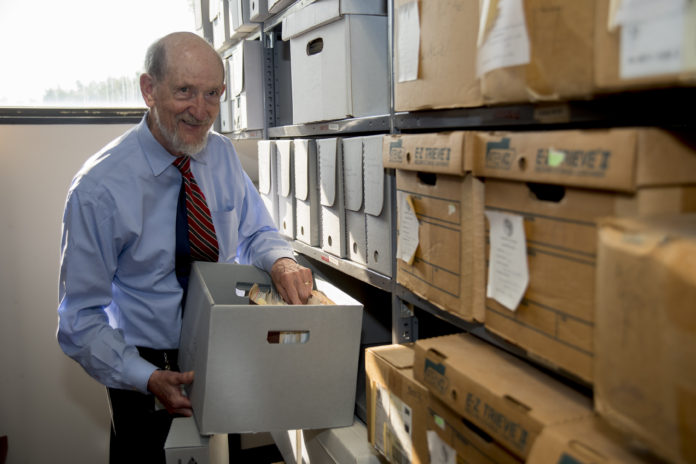 Ever breeze by some of the older buildings on campus and wonder what their stories are? Now is your chance to hear them. 
Get Healthy Now is sponsoring Historical Walking Tours through Belknap campus 12-12:50 p.m. every Wednesday from Oct. 4 to Nov. 15. Those interested in participating just need to meet up at the Ekstrom Library Porch (interior of campus side, across from Humanities Building).
The tours will be lead by Dr. Tom Owen, veteran walking tour raconteur and local historian, who has been an archivist at UofL's Archives and Special Collections for 42 years.
"This is a 50-minute opportunity for people to learn something new, appreciate campus and get a little exercise," Owen said. "I am always struck by the university as a destination — the water features, the pendulum, the plantings, the flower beds, there's just so much to see and enjoy."
Owen is especially well-versed in campus history now as he's been working with Archives and Special Collections colleague Sherri Pawson to pen a new history book, "University of Louisville Belknap Campus." The 128-page book from Arcadia Publishing's "Campus History Series" is set for release Dec. 4, just in time for the holidays.
"I knew a lot before, but I learned a lot of new things preparing this book, no question," he said.
One aspect he'll focus on is the core eight buildings that existed when the university moved onto the site in 1925, and what other buildings have been absorbed into campus through the years and adapted to fit campus needs.
On a recent episode of "UofL Today with Mark Hebert," Owen and filmmaker Morgan Atkinson talked about recently donating more than 50 hours of interviews with Owen to UofL Archives and Special Collections. Owen and Atkinson discuss the project which dates back to 1990.