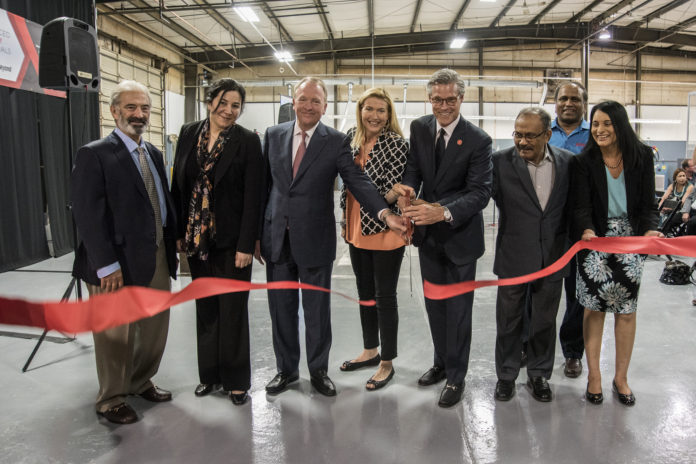 Advanced Energy Materials LLC, a Louisville-based manufacturer, has opened a new production facility at the University of Louisville. 
"It's a big milestone for our company, moving from R&D to production and commercial sales," said Vasanthi Sunkara, AEM's president and CEO, at a ribbon cutting event June 2. "Today's event commemorates …the company's direction toward becoming a full-fledged commercial venture." 
AEM makes nano-materials for catalysts used in chemical processing and oil refining. Its new facility is in about 20,000 square feet at 311 E. Lee Street, just north of the Belknap Campus. 
Interim UofL President Greg Postel said the move was another success story from the university's efforts to work with industry, including through the Institute for Product Realization (IPR).
"Our Institute for Product Realization was designed as a way for us to pursue these types of new relationships," he said. 
The IPR connects companies with on-campus resources for problem-solving and innovation. John Gant, the IPR's director of industry partnerships and alliances, said the university is looking for companies, like AEM, that have an "innovative twist."  
"This is exactly the kind of company we want to work with at the University of Louisville," he said. 
Advanced Energy Materials LLC has roots at UofL, and was born from a break-through technology developed at the Conn Center for Renewable Energy Research. The company now has an exclusive license agreement with the UofL Office of Technology Transfer for a portfolio of several patents, which could be commercialized as products for customers.  
Mary Ellen Wiederwohl, chief of Louisville Forward, the city's economic development engine, said companies leveraging those kinds of UofL resources can help drive the local economy. 
"This density of companies here that are using the intellectual prowess of the university to drive economic growth in our city is certainly part of our long-term growth strategy for economic prosperity in our city," she said.
Terry Gill, secretary of the Kentucky Cabinet for Economic Development, said these partnerships, with support from the state, can also drive growth throughout Kentucky.
Gill added that successes like this can be used "as kind of a draw for other young talent in the region to the University of Louisville and really to highlight the wonderful work that's happening there."
AEM has nine employees with plans to hire five more by the end of the year. Total employment is projected to reach as many as 60 by 2019.
Photos from the ribbon cutting event are available online. Video from the event is also available below: