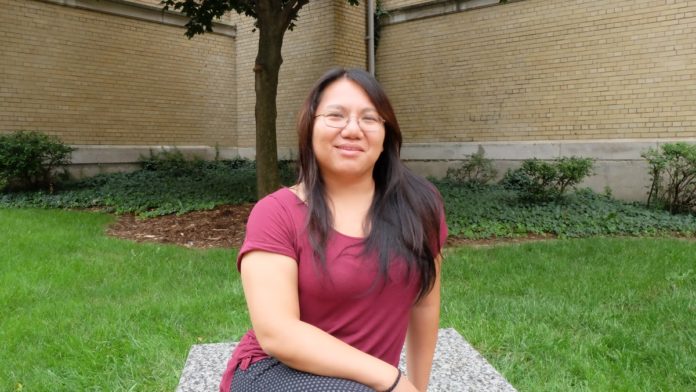 Diana Kuo has been named one of four students in the first cohort of Health and Social Justice Scholars. Born in Taiwan, Kuo immigrated to the United States with her family at age 3 and lived in New Jersey during her formative years.
Prior to entering the PhD program at UofL, she worked as a medical laboratory technologist for the State of North Carolina, UNC Healthcare and the Department of Agriculture and Consumer Services. She also has experience working for an international health non-profit organization, developing fundraising activities for the organization to provide medical and social services for Chinese orphans with special needs. Kuo is a second-year PhD student in the epidemiology department of the School of Public Health and Information Sciences.
She took time out of her schedule to talk to UofL News about what motivates her and what her goals are as a Health and Social Justice Scholar. 
UofL News: What motivated you to invest in health and social justice?
Diana Kuo: Ever since my time as a grad student in my master's program I was interested in epidemiology, but also international health. A lot of international health courses I took had a human rights perspective with health, so my background has been fluctuating. After I graduated from the master's program, I worked for an international health organization in a fundraising office for our operations in China where we helped handicapped orphans. Once I left that career I went into the medical field as a medical technologist helping to diagnose diseases. Inherent in me has always been the idea that the health and wellbeing of everyone in our community is important. That sent be back to pursue my PhD. One of my main topics of interest in epidemiology is social epidemiology, which melds a lot of different disciplines to understand this bigger picture of health and why it is different in different populations.
UofL News: What is one experience that drives you to make a difference?
Kuo: My most significant experience was in my MPH program in which I did an internship with a student-run organization. We went to Uganda to catalog services offered by NGOs, MPOs, private clinics and local hospitals for HIV and AIDS patients and their friends and family who were affected. While I was there we worked with a local brother-and-sister-run orphanage. In Uganda there is no such thing as a state-run orphanage system, so it's basically people taking in children from the street. A lot of those children are orphans because their parents died of AIDS and none of the family members want to – or can – help out. One of the days we were there we went around talking to children who had not yet gone to seek someone to help them. They were still living on the streets. A lot of them were hiding in the sewer drains. I think that was one of the most up-front and eye-opening events I ever experienced.
UofL News: What would you like to accomplish as a Health and Social Justice Scholar?
Kuo: It will depend on how we collaborate to figure out what would be the best project to help the community, but I think there are a lot of issues that are not directly related to health but contribute to whether people have healthy lives. One of the main things is to get the idea of public health out to the community and affect policy change in the city. Although I don't know when or if we will achieve this, I hope it will be within my lifetime.
Introduced in the spring of 2016, the Health and Social Justice Scholars Program engages professional students with local communities and faculty mentors to bring about changes to benefit underserved populations in the Louisville area. Read about fellow scholars in this program, Ashton Green and Mallika Sabharwal.