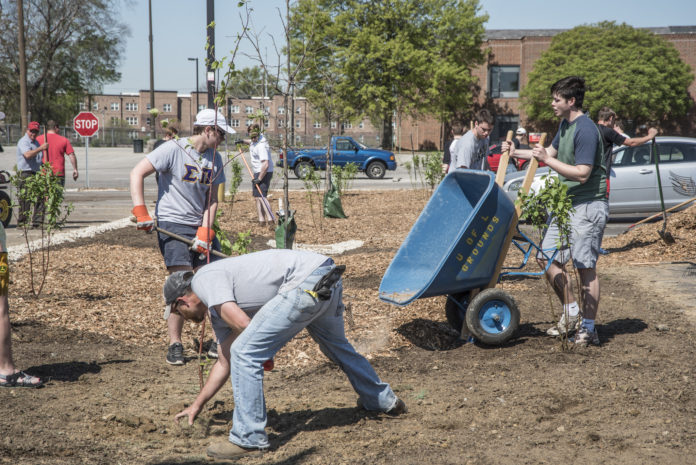 The University of Louisville this year was again named one of America's greenest higher education institutions, notching a No. 43 ranking in the Sierra Club Cool Schools rankings released Sept. 6. The news reaffirmed what grad student Betsy Ruhe already knew.
"I have been impressed with how far Louisville as a city has come in terms of sustainability and the University of Louisville has led the way," said Ruhe, a longtime Jefferson County Public School special education teacher who is one of the first students enrolled in UofL's new interdisciplinary master's degree program with a sustainability concentration. "If it hadn't been for the students and faculty pushing for change, none of this progress – and the recognition that has followed – would have been possible. To rank in the Top 50 is quite an accomplishment and reflects the commitment of all at UofL to become a leader in sustainability education for the 21st century."
This marks the eighth consecutive year UofL has landed in the top 100.
Justin Mog, assistant to the provost for sustainability initiatives, said the scoring was based on UofL's latest rating in the national Sustainability Tracking, Assessment and Rating System (STARS). Earlier this year, UofL became the first college in Kentucky to achieve a gold STARS rating. STARS is the framework developed by the Association for the Advancement of Sustainability in Higher Education to track progress in the social, economic and environmental aspects of sustainability. 
This year, UofL scored more than 622 points out of a total of 1,000 in the annual ranking published by The Sierra Club, the oldest grassroots environmental group in the United States. The list is compiled based on data about a school's sustainability initiatives in co-curricular education, energy, investments, food, innovation, academics, planning, purchasing, transportation, waste and water.
"What's so exciting about this is not just that we're doing one thing right, but that we are addressing sustainability across the board," Mog said.