The Louisville Farmers Market Association is a new group that will work to support local farmers markets, farmers and food producers to create access to a healthy and sustainable food system in Louisville Metro.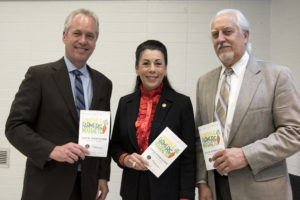 Mayor Greg Fischer recently made the announcement at the Gray Street Farmers Market, a collaboration between the University of Louisville School of Public Health and Information Sciences and Louisville Metro Department of Public Health and Wellness. He was joined by Dr. Craig Blakely, dean of the school, and Fourth District Metro Councilwoman Barbara Sexton Smith.
"Farmers Markets are an important way to get healthy food to our neighborhoods, particularly any areas of our city that may not have ready access to fresh produce," the Mayor said. "They also are a great opportunity for our local and regional farmers and entrepreneurs to support their operations. They help our community thrive."
The LFMA helps member markets increase their capacity and growth by assisting with marketing, financial advisement, and vendor and volunteer recruitment. The association receives staff support from the Louisville Metro Department of Public Health and Wellness and Louisville Forward, along with the Kentucky Department of Public Health Community Health Action Team (CHAT) Grant.
Another benefit of the LFMA is that it will assist families who use Supplemental Nutrition Assistance Program (SNAP) benefits.
"Our weekly Gray Street Farmers Market brings fresh, nutrient-rich foods into our neighborhood and supports healthy eating — an important factor in disease prevention and overall wellness," said Dean Blakely. "We are thankful to Metro Council District Four Councilwoman Barbara Sexton Smith for funding for our Dollar for Dollar program, which allows SNAP customers to double their food dollars and makes local produce more affordable."
"I am excited about this new Louisville Farmers Market Association," said Councilwoman Sexton Smith. "Farmers Markets like the Gray Street Farmers Market and the Phoenix Hill Farmers Market are making locally grown fresh fruits and vegetables available to many of our neighbors who don't have a full-service grocery store."
The Louisville Farmers Market Association also has produced the new first annual Guide to Local Food Resources. The guide maps out the city's farmers markets, as well as other places where consumers can find local healthy foods. These include New Roots' Fresh Stop Markets and Healthy in a Hurry Corner Stores. The guide is available online.