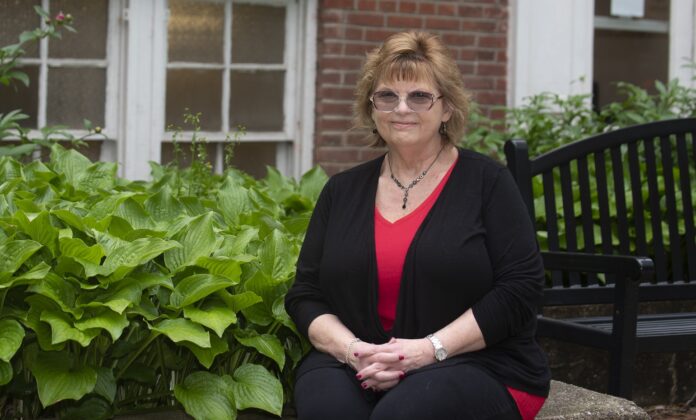 For many, earning a college degree soon after graduating high school is the norm. 
For others, it happens at the pace of life.
That has been the case for at least two students who will walk across the stage at May Commencement 2023. 
For Nancy Thompson, it took 50 years. For Erika J. Glenn, 32.
Stops and starts on the road to earning her degree
Nancy Thompson, 67, graduated from what was then Thomas Jefferson High School in 1973 (it is now a middle school).
She began attending UofL and also was working in the home mortgage industry, where no college degree was necessary for her to flourish. She took some classes on a whim: bowling, piano, philosophy.
Then she stopped taking classes, married and had a child, while continuing to work in the home mortgage business, where she had started answering phones. 
"College was something that I always wanted to finish," said Thompson, a mortgage loan officer for Ruoff Mortgage in Louisville and mother of one. Fifty years later, she is graduating with a bachelor's degree in philosophy with a concentration in humanities from the College of Arts & Sciences. 
"I had taken courses in real estate law, real estate appraisal, just because I was in that business, but my heart was always in philosophy," she said. "Us humans do not come with an instruction manual. Philosophy is the closest thing I can come to how one should live one's life."
Her path to her degree was filled with stops and starts. A flood destroyed her home. Her father became terminally ill. The Great Recession of 2008 caused a mortgage crisis. 
Finally, she asked a UofL advisor to help her with a game plan. "I said, 'I'm not getting any younger, what do I need to finish up to actually declare a degree and to graduate?"  
She is, naturally, philosophical about it. 
"Nevertheless, she persisted," she said. 
All-online program helps lead to success
Erika Glenn, 50, a permanent auxiliary teacher at Millcreek Elementary School in Louisville and mother of four, started her college career in 1990 at Eastern Kentucky University, also right out of high school. She transferred to Jefferson Community & Technical College (JCTC) two years later and endured a stillborn birth in 1993. Her father died three days later and her only sister a year after that.
Glenn persevered to earn an associates degree in 1994 and worked full-time in the JCTC admissions office. 
In 1998, ready to start again, Glenn started taking classes at UofL. Again, life got in the way and Glenn took a break. 
In 2017, she enrolled in the all-online Organizational Leadership and Development (OLL) bachelor's program in the College of Education & Human Development. The program is specifically designed for busy adults with work experience or military training who are seeking a bachelor's degree. Again, work-life balance came into play but by 2022, still not finished, she saw an opening to her future.
That was when UofL introduced a new OLL track in diversity, inclusion, community engagement and equity (DICEE). Glenn sprinted, and on May 13 will earn a bachelor's degree, cum laude, in OLL on the DICEE track. She hopes to become a Diversity, Equity and Inclusion (DEI) consultant.
"I feel this is the work that I was called to do and learning more and more about how this program benefits the entire community as a whole is incredible," Glenn said, noting the program reflected her life's experiences. 
"I am a single divorced black female who has struggled financially to raise my children. I have worked full time since I was 21 but because I did not have a (bachelor's degree) most jobs paid me less than what I deserved," she said. "I can relate to the topics we have discussed in class. …  I feel this is my moment to speak my truth and to educate others on the importance of DEI."