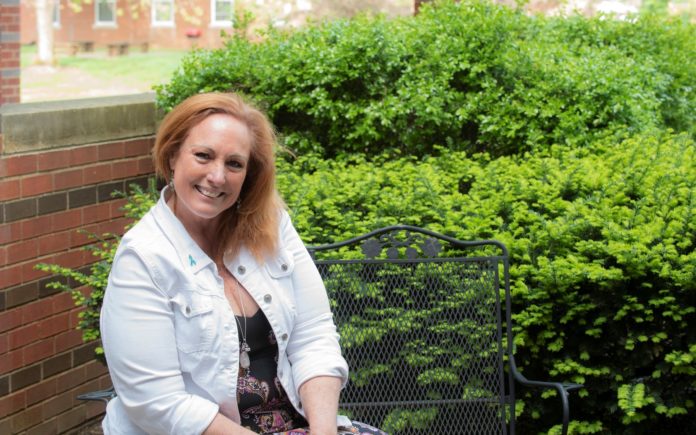 Barbara Martin is fighting an enemy that has ravaged her friends and family.
"I'm going to fight this cancer beast," said the breast cancer survivor and Kent School of Social Work student who will soon receive her master's degree in social work.
The "beast" has claimed Martin's parents, two siblings and three grandparents. What's more, in just the past nine months as she began her advanced standing coursework, she lost nine more. Seven of those losses were to cancer.
Martin received her own cancer diagnosis in 2010 but has been cancer-free since 2012. She has an older sister who is also a breast cancer survivor.
"Over and over and over, it was like, bam, bam, bam, bam," she said of the many cancer diagnoses that targeted her loved ones.
This profound personal experience drew Martin to the Kent School. She wanted to do something to help those who faced cancer. The graduate degree program with a specialization in psychosocial oncology seemed like an ideal fit.
"I thought, 'Is this the right place for me?' Then I decided I have to do this for all the people I've lost and for those living with cancer – to help them live longer and better," she said.
Martin's academic journey began in 2008. She earned an associate's degree from Ivy Tech Community College of Indiana in 2015 and her UofL undergraduate degree in social work in 2018.
She kept pushing ahead for the master's degree with the psychosocial oncology specialization.
Martin acknowledges it was tough to stay focused, especially as her cancer losses mounted. But she persevered.
"I kept my eye on the prize," she said. "The UofL family came around to me and lifted me up when I needed to be lifted up."
During her studies at the Kent School, Martin discovered a new passion: research.
"Man, I love research," she said.
She began focusing on psychosocial distress and its impact on those diagnosed with cancer. Her findings underscored the importance of providing people with psychosocial services in the survivorship phase — even after they have stopped receiving treatment — and tapping into complementary and alternative medicine techniques such as acupuncture, yoga, tai chi, reiki and mindfulness to improve health outcomes.
"I spoke with people who were 25 years out (since they had been diagnosed with cancer) who are still experiencing various aspects of bio-psychosocial and spiritual distress related to their cancer journey. And, if these are left unchecked, they translate into negative health care outcomes," she said.
Martin says she is looking for work and hopes to land a clinical position after commencement where she can pursue her licensed clinical social worker designation with the oncology social work certification and continue her research.
She is an American Cancer Society Ambassador for the society's new initiative, ResearcHERS, which encourages female-led cancer research.
Already a big advocate for the society (completing a 500-hour practicum for the nonprofit organization while working on her master's degree), Martin plans to explore the possibility of obtaining funding from sources such as ResearcHERS, the National Cancer Institute and the National Institute for Health and Care Excellence for her ongoing work.
As her time at UofL comes to an end, Martin says earning her degree has been an inspiring journey.
"I have a great deal of resilience, so instead of giving in to grief, I began to tap into the energy of extreme loss as I earned this degree to inspire my journey forward in memory of those I've lost and in honor of those who have survived," she said. "My husband, Chris, has worked like a dog to support me throughout the process. Earning the Master of Science in social work with the psychosocial oncology specialization is so validating and I am intrigued by how the next steps in this journey will unfold."
UofL was the first college in the nation to launch a social work curriculum with a specialization in psychosocial oncology. The Kent School program is under the direction of Karen Kayser.