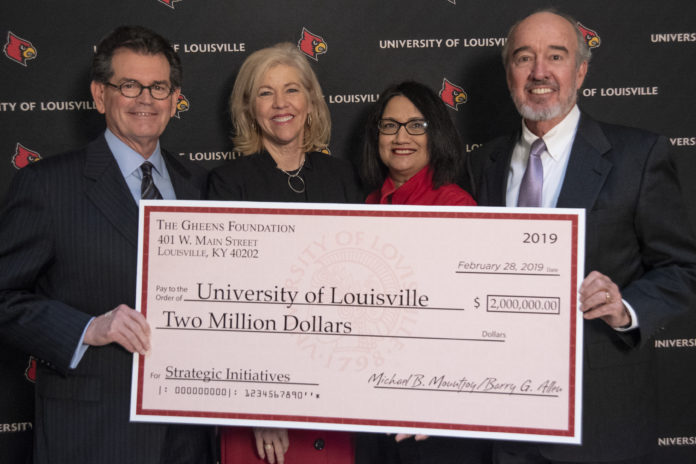 A $2 million gift from the Gheens Foundation Inc., announced Thursday during a news conference, marks the philanthropic organization's second largest gift to the university.
"We were so excited when we learned about this gift," said UofL President Neeli Bendapudi. "Once again, the Gheens Foundation has stepped up to support the University of Louisville. Now it is up to us to use this funding in ways that clearly will benefit our students and the community."
The unrestricted gift allows the university to allocate the funds toward areas of greatest need. 
Bendapudi said $500,000 will be directed toward enhancing safety and security staffing and technology on the Belknap and Health Sciences Center campuses. The remaining $1.5 million will fund strategic initiatives identified through the university's strategic planning process, which is currently underway.
"This is a perfect time to look at where and how we should invest these funds," she said. "The only thing we know for sure is that this gift will be used to ensure that UofL is a great place to learn, to work and in which to invest."
Gheens has given more than $12 million to UofL over five decades, including funding for the Cardiovascular Innovation Institute, Gheens Science Hall and Rauch Planetarium and the Gheens Foundation Inc. Chair in Aging Research. The largest gift was a $2.5 million grant in 2013 for health-related medical research. 
Gheens President Barry Allen said, "I am confident that our founders, Edwin and Mary Jo Gheens, would be most pleased with the trustees' decision to make this grant. It recognizes the vital importance of the university's mission and is an affirmation of Dr. Bendapudi's fresh and strengthening leadership."
Mike Mountjoy, Chair and CEO of the Foundation said, "The University of Louisville is critical to this city. We felt like it was time for us to step up."
Since Bendapudi assumed the UofL helm, major gifts include $5 million from the Owsley Brown II Family Foundation, $2.5 million from retired Churchill Downs Inc. Chairperson Carl F. Pollard and a substantial gift from Republic Bank Foundation and the Trager Family Foundation in support of optimal aging research.
Check out footage from today's press conference: