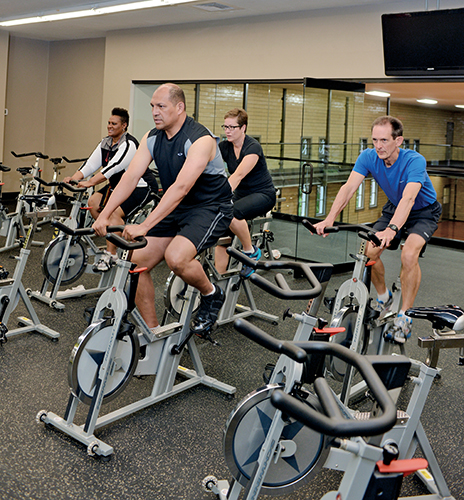 It's been three years since the Get Healthy Now Wellness Center underwent its $1.3 million renovation/expansion and relocation initiative, made possible by partnerships with the UofL Foundation and Athletics. The GHN team hosted an open house on April 21 to mark the occasion, and to also officially launch its latest program: A Meatless Monday campaign with food samplings and cooking demonstrations.
The Wellness Center moved from a small, 2,000-square-foot space in the lower level of Crawford Gym to the newly-renovated 22,000-square-foot space in the spring of 2013.
According to Patricia Benson, AVP for Health, Wellness and Disease Management, the new space allowed Get Healthy Now to expand the geographical reach of its workplace wellness efforts, including membership access to alumni and affiliated university partners and community engagement initiatives and events that are hosted at the facility, such as the American Heart Association Worksite Wellness Symposium.
In the three years since the move, the Wellness Center has hit its projected milestones, both in terms of membership and overall utilization rates.
"When we first reopened the doors to the GHN Wellness Center in 2013, we brought a membership base of 750 employees over from Crawford Gym. Now we have over 2,100 employees who have activated their membership," Benson said.
Overall employee utilization of the Wellness Center has also steadily climbed from year-to-year with an average of 1,205 monthly visits in 2013, to 3,677 monthly visits in 2016. In the month of March, the GHN Wellness Center experienced a 14-percent increase in visits versus March 2015, with 3,677 employees walking through the doors. In January and February combined, more than 18,000 member visits were recorded.
In addition to membership/visit growth, the GHN Wellness Center has also added programming to fit the changing demands of its members, offering everything from water fitness and meditation to Zumba and Pilates.
"We are constantly reviewing our programs and offerings to keep our members coming through the doors and are actively engaged in our wellness offerings, no matter where they are on their wellness journey," she said.
In year four, the Wellness Center plans to offer new classes that are focused on holistic health and wellbeing, starting with Tai Chi this summer.
"We will be working closely with our clinical partners to help employees transition and rebound from chronic and acute health challenges – be it knee replacement surgery or other conditions that create barriers in achieving overall wellness goals and living a full, active and independent life," Benson said.
The focus on holistic health is in response to an annual survey conducted by GHN to ensure the team is offering relevant classes and programs for its members. Benson said the GHN team also stays on top of emerging trends in wellness and fitness.
GHN's model has been so successful, other larger universities – including the University of Alabama and the University of Michigan – have used it as a benchmark for their own employee wellness programs.
"If there is one thing that surprises me, it's that we were able to do this when much larger institutions haven't figured it out yet," Benson said. "The key for us is to offer a plethora of wellness opportunities that engage multiple interests and passions for all of the employees we serve. Our intent from day one was to create a sustainable program that has measurable impact. We've been able to do that."