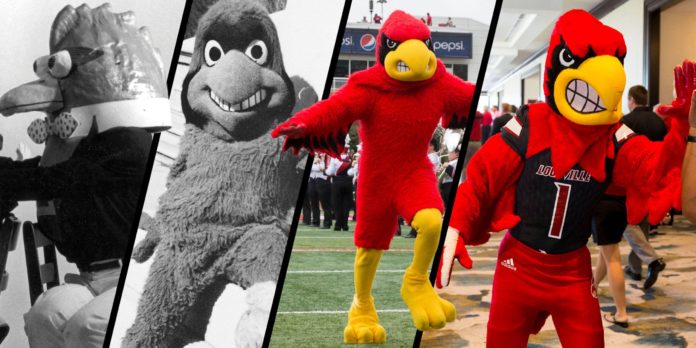 How well do you know our beloved mascot, Louie? Sure, he's everywhere – on t-shirts, license plates, business logos, spray-painted onto yards … But who is Louie beyond all of that marketing splendor?  
Louie was originally known as, simply, the Cardinal Bird. In 1913, the wife of Liberal Arts Dean John Patterson suggested the athletics department adopt the state bird as its own.
According to "The University of Louisville" history book by Dwayne Cox ('76GA), and William Morison, a two-dimensional version of the cardinal was created early on, though no concrete history was documented. The first true historical evidence of the Cardinal Bird didn't appear until 1953.
During that year, two female cheerleaders escorted their fellow cheerleader T. Lee Adams to the home economics department and introduced him to former department chair Frances Goldsmith, known to many as "Mrs. Gold."
They asked her to make a Cardinal head for him. Mrs. Gold agreed and created a cloth pattern that "was more of a black head with a yellowish beak," Adams recalls in the book.
"There was hardly any red at all. Then I had my red cheerleader sweater. I used it for the rest of football season and one or two basketball games and then I quit because I got teased so much," he said.
Still, Adams blazed the trail for our feathered icon.
Second iteration
Several years later, a group of marching band members picked up where he left off. From 1958 to 1960, Richard Dyson served as the mascot, first donning the new handmade paper-mache costume for a Louisville Thanksgiving Parade.
Dyson came up with the idea along with his bandmates Gearl Asher and Sam Badgett. Dyson got the nod to wear the costume because he was a drum major.
"The UofL players gave us a long black coat with tails for the costume. I had a white dress shirt and we found a large 'L' for the front," Dyson said in the book. "I had white dress pants and a pair of spats worn over my shoes, and I carried a black cane with a white top. The head had holes in the eyes and below the beak for viewing and breathing."
Unlike the first iteration of Louie, version 2.0 was a hit. The paper-mache mascot joined the cheerleaders at several games and was passed on from student to student for at least a decade. A female companion, named the Ladybird, appeared for some years as well, according to the new book, "University of Louisville Belknap Campus," by Tom Owen and Sherri Pawson.
Third iteration
Lowell Katz played Louie from 1967-71. He spent years trying to find the costume after graduation and tracked it down to his friends Bob and Yolonda DeGolian. They eventually decided the costume needed to be restored and called local artist and fellow alum Gayle Cerlan to "bring it back to its original glory."
According to Owen and Pawson's historical account, the mascot became a "whole body costume with padded shell, big yellow hands and feet, and an exaggerated bird head with growling teeth and a large beak."
Newer generation Louies
Louie has evolved quite a bit from its paper-mache days. In 1995, the first mascot national championship was held and UofL's Louie – "played" by student Aaron Flaker – won the title. Louie was also presented with the National Cheerleaders Association's Most Collegiate Mascot Award in 2004. 
In addition to conjuring up school spirit and occasionally leading the marching band, Louie used to parachute into home football games when Papa John's Cardinal Stadium first opened in 1998.
Louie received another update in December of 2016. The new mascot is slimmer with a wider grin and wears UofL jerseys that match whatever colors the team is wearing that day. His wardrobes also include special uniforms, such as a Military Appreciation Day uniform.
According to a story in the Courier Journal, athletic officials said the redesign was done with a goal of "improving his flexibility without sacrificing integrity."