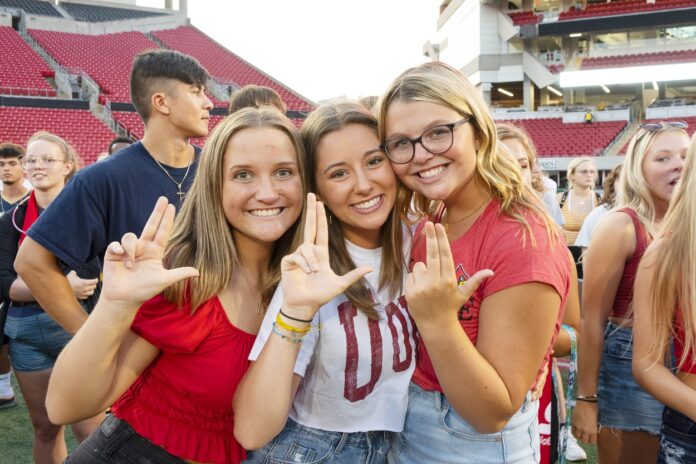 The University of Louisville is ready to Raise Some L with the university's annual day of giving.
Beginning at 6:02 p.m., Tuesday, Oct. 24, and continuing through midnight, Wednesday, Oct. 25, Raise Some L runs for 1,798 minutes in honor of UofL's founding year. The 30-hour campaign, held during Homecoming week, is a chance for the Cardinal community to support students, research and campus initiatives that help foster a better world.
"Your investment in UofL creates vibrant futures for our students and empowers the next generation of Cardinals to unleash their potential and build a brighter tomorrow," said President Kim Schatzel.
Several sizable donations have been pledged in advance of the day including:
$50,000 to benefit the HDR Foundation from an anonymous donor
$50,000 to Brandeis School of Law LGBTQ Community Impact Scholarship by John Selent
$50,000 challenge from UofL Health for the UofL Health Employee Emergency Fund
$37,500 to create the UofL English Writing, Editing and Publishing Lab
$25,000 to Whittenberg Construction Endowment by Whittenberg Construction
$25,000 to create a scholarship within the School of Public Health & Information Sciences by Kim Mascaro
"UofL's day of giving campaign helps keep the university affordable for students, provides opportunities for learning and discovery and ensures UofL's progress as a major metropolitan research university," said Brent Pieper, vice president for advancement. "We are grateful for the generous alumni, faculty, staff and friends of the Cardinal community who continue to rise to the occasion. Thank you for everything you do to support our mission."
Interested donors can make a gift at RaiseSomeL.org. In addition to online giving, in-person donations may be made at the Raise Some L Belknap Campus and Health Sciences Center campus headquarters from 10 a.m. – 2 p.m., Wednesday, Oct. 25. To learn more about Raise Some L or become an advocate, visit fundraising.louisville.edu/raise-some-l.
The Student Organization for Alumni Relations will be stationed at Raise Some L headquarters at the quads of both campuses with snacks, activities and additional information. Share the word about Raise Some L by using #RaiseSomeL.
For information on other UofL Homecoming week events, visit UofLAlumni.org/homecoming.