There are a few folks at UofL who loom so large, they're recognizable by first name only.
Neeli.
Jenny.
Vince.
Then there's George, a metaphorical giant by comparison.
George Howe is as big as it gets here on the Belknap campus. He has led or been involved in countless milestones and events, has touched the lives of thousands of students and has made all the difference to so many of them. There's a reason one of our main student hubs is called the George J. Howe Red Barn.      
And now, after a prolific 50-year career at the University of Louisville, Howe is ready to retire. September 1, 2020 marks his last day as Student Affairs' director of special programs and advancement.
Howe arrived at UofL by way of his hometown of Grove City, Pennsylvania, then New Concord, Ohio, where he earned his bachelor's degree from Muskingum College in 1965, then Morgantown, West Virginia, where he received his master's degree in 1969.  
Following his time in Morgantown, he attended a National Association for Campus Activities conference at the University of North Carolina. There, he met UofL's dean of students, Gary Steedly, who told Howe the university was planning to hire its first director of student activities.
The two hit it off and Howe assumed the new position on July 1, 1970, the same day UofL entered the state system.
"Gary was instrumental in my being hired," Howe said.
During his interview process, Howe asked to see the Red Barn, which at the time was part of part of Caldwell Tanks Inc.
"I knew in my heart that this building had great potential," he said.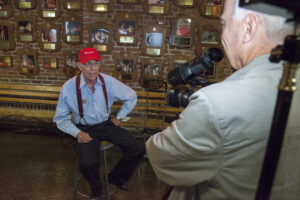 In all of those years since, Howe has made sure that building has indeed lived up to its potential. In fact, his very first priority on the job was to merge the existing Student Activities Board with the students who were involved with the Red Barn. At that time, the SAB hosted concerts – like the 5th Dimension – at Freedom Hall and Howe had a different vision, one that brought such events to campus.
The students were agreeable to his vision and merged to become the Union for Student Activities. That group, Howe included, was instrumental in saving and renovating the Red Barn when it was threatened with demolition.
Howe counts the "Save the Red Barn" campaign as one of his biggest accomplishments and remembers the effort – and the people involved – well.  
"Dave Lee, director of facilities management, and Harry Sparks, assistant director of facilities management, were the driving force with saving and renovating the Red Barn with the support of our students, Harold Adams, assistant vice president for student life, Dr. Ed. Hammond, vice president for student affairs, and Dr. James G. Miller, president," Howe recalls. "Dave and Harry's office was in what was most recently the Cultural Center. We became instant friends and they loved the Red Barn, and the rest is history."
A big piece of UofL history, in fact. The "saved" Red Barn as it stands today was formally dedicated on March 30, 1979.
A little over a year later, on May 2, 1980, ABC Sports and the University of Louisville Friday Night Live program hosted a live broadcast from the Red Barn to coincide with the Kentucky Derby. The broadcast included a concert by Dan Fogelberg, where the singer debuted "Run for the Roses."
While saving the Red Barn is fine and good and iconic if you're a Louisville Cardinal, if Howe were to pick his top career accomplishment, it would be helping to establish the Red Barn Alumni Association in 1985. That association has created eight endowments and 13 programs within Student Affairs that have provided nearly 1,900 scholarships to UofL students totaling $468,907.70. Add in the RBAA's contribution of $47,855 for student programs since 1988, and you get a combined total of $516,762.70, Howe proudly shares.
Still, there are proud moments and there are favorite moments. Howe is proud of the "Save the Red Barn" campaign and the hundreds of thousands of dollars provided to students through the RBAA. His favorite moment, however, is when the Red Barn was renamed and dedicated in his name on Dec. 7, 2007.
"I am eternally grateful to Frank Mianzo (then-assistant to the vice president for student affairs), who was the force behind the renaming," Howe said.
Of course, the University of Louisville extends well beyond the Red Barn, and Howe is quick to express his appreciation about the institution as a whole – especially its students.
"My favorite feature about UofL is the spirit of serving our wonderful students whom without we would not be here," he said. "This spirit as a university has enabled us to achieve extraordinary accomplishments."
President Neeli Bendapudi, he adds, has "further enhanced that spirit."
Howe reflects on his time at UofL with ease and enthusiasm, careful not to forget a person or a detail from his memory. He acknowledges the tremendous growth of all three campuses during his tenure, noting the Red Barn wasn't even part of the Belknap Campus in 1969.
And while enrollment has jumped from about 8,000 in 1970 to over 20,000 today, he said the students have largely stayed the same, in a good way.
"Over my 50 years at UofL, I am amazed and gratified at how wonderful our students are most appreciative of our guidance and support to their welfare and growth through their out-of-classroom experience that we are able to provide them," he said.
And, if asked whether or not he would change anything about his career here, he simply answers, "not a thing."
Howe's retirement plans include enjoying time with his wife, Karen, daughters, Heidi and Amy, and grandchildren, Alba, Haley and Drew. His supervisor, Glenn Gittings, has also "made it clear" that Howe is welcome to return to the Red Barn whenever he wants.
"We will enjoy returning to UofL to see all of many wonderful friends," Howe said.
In the meantime, Howe makes a point to thank those who have provided him with support throughout the past 50 years – an extensive list that includes the entire Student Affairs staff, especially Glenn Gittings, Kenny Quisenberry, Julie Onnembo, Stuart Neff, Teresa Smith, Suzanne Galbreath, Pam Curtis, Allison Commings, Nakia Strickland, Tim Moore, Dale Ramsay, John Smith and Dr. James Michael Mardis.  He also thanks those from the RBAA, especially Jimmy Snyder, Michel Cohen, Chuck Erik, Chase White, Ginger Brown, Edlisa Embry, Karen Howe, Louise and Louis Bornwasser, Ellen and Dane Burton, Ted Williams, Lois Adams-Rodgers, Rob McGeachin, Paul Noltemeyer, Beth Roberts and Ray "Poogie" Eastridge.