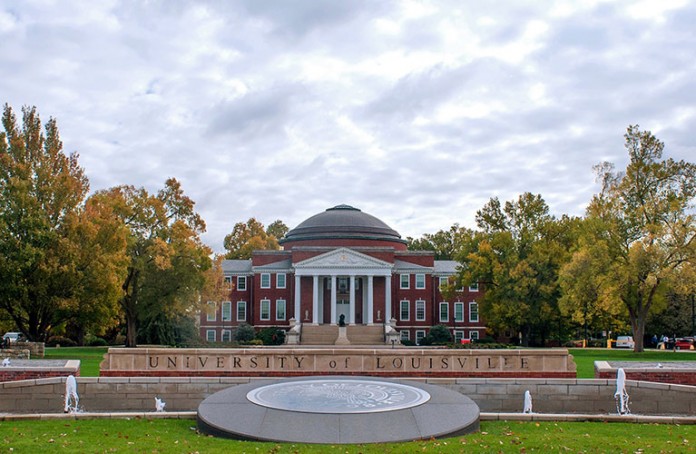 During the April 9 Staff Senate meeting, Brian Buford, assistant provost for diversity, announced that UofL has given employees more control over their own data by letting them update their gender identity in the HR system.
Previously, an employee would have had to bring legal documents to HR if they wanted to change their gender.
"That was the gold standard at one time. Now it is up to people in our campus community to tell us how their gender should be reflected in the system. They can tell us who they are and be believed without unnecessary red tape," Buford said. "For 99 percent of us on campus, this will never be an issue. But there are people whose gender is more fluid and this is huge. It is an important, incredible sign of inclusion."
The HR system has been updated to reflect this change, and is in the self-service area in ULink. Buford added that this step should help UofL continue to achieve an LGBTQ-friendly designation.
"We are the most inclusive school in Kentucky," he said. "We want to be the most inclusive school in the nation. This is a big step."
John Elliott, interim VP for HR, discussed flexible scheduling.
"From my perspective there can be a policy and the (Policies and Economic Development committee) is the most appropriate group to research this," Elliott said. "This will take a lot of conversations and what may work for some departments won't work for others."
Elliott said there were 116 RIFs in 2016 and 36 percent of those affected employees were older than 50. The RIF process was discussed by employment manager Stacey Gardner, who noted there were several checks and balances in place before a RIF takes place, including underutilization, performance, grievances and disciplinary records.
Laura Carter, employee relations specialist, presented the revised performance management information. UofL created a work group with different constituencies to come up with a new approach to employee performance evaluations and benchmarked a number of other institutions. A new form was created that is a one-page, two-sided form. Also, a new rating was put into place that includes: Exceeding, Succeeding, Learning, Needs Improvement.
HR has also re-created the self-assessment form, which is one page. These new forms have been presented to the appropriate committees and will be presented to Faculty Senate in May.
Joseph Han, COO, discussed the process behind his 5-year plan. All department heads have completed initial drafts of their plans, which will include results from a climate survey sent out last month, which yielded a 20-percent participation rate. Twelve volunteers are going through the data, while 19 employees have joined the innovation team to figure out next steps.
"It's an exciting time. It provides an opportunity for folks to look at operations-level projects," Han said. "I'm asking folks to devote their time in this. I'll weigh in with the resources we have and the challenges. There's no initiative that goes unrecognized."
A customer survey went out this week, and a comprehensive projects list is underway.
Han also discussed UofL's mail and delivery services, which are being outsourced to Canon. The team received RIF notices last week and they have 90 days for it to go into effect. Han said it affects 22 employees in mail and print services.
Mark Watkins, AVP for Business Services, said Canon did not guarantee it would hire everyone back, but it did guarantee it would interview those interested. The pay is comparable if not better, he said.
Susan McKellep discussed the Employee Assistance Program, which is available to all employees and covers everything from test anxiety to relationship issues and grief. The service is confidential and free. The office also serves as a clearinghouse for resources, McKellep said, and phones are answered 24/7.
Employees have access to eight sessions with a counselor per issue. If long-term counseling is needed, the office will make that referral.
In other news:
Chair Will Armstrong announced he is not seeking a third term and encouraged senators to consider running for the spot.
Rhonda Gilliland, systems manager for HSC Shared Services, won the election for secretary/treasurer.
The UofL Foundation has agreed to include ex-officio roles, therefore the Staff Senate, Faculty Senate and SGA will have representation on the ULF Board.
The next Staff Senate meeting is May 14 at 2:30 p.m. in Chao Auditorium.