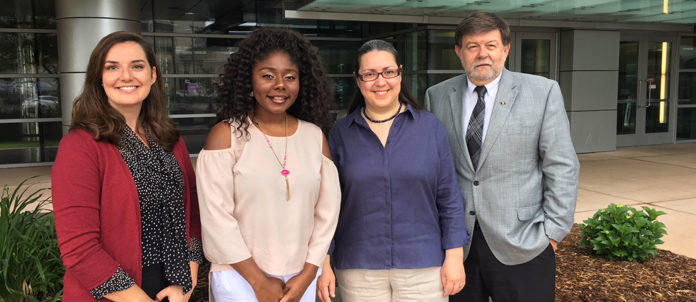 Winning a Fulbright to Greece is tough: just seven people earned the award for 2018-2019. Karen Udoh, who graduated in May with a degree in biology, is one of those seven.
How did she do it? Udoh said she started early and was not shy about accepting help.
"I learned that you need to utilize faculty and mentors," said Udoh. "I started the Cancer Education Program as a freshman—that's how I met Dr. Hein."
Meeting David Hein was fortuitous for Udoh. He is one of the nation's top researchers examining how a person's susceptibility to cancer is influenced by exposure to environmental and occupational chemicals. Udoh, who will start medical school in 2019, wanted to learn more about this area of research.
Through Hein, Udoh met Dr. Sotiria Boukouvala, an associate director of molecular genetics for Democritus University of Thrace in Alexandroupolis, Greece. Boukouvala's work is similar to Hein's and they have been collaborators for many years.
Working with Boukouvala, Udoh outlined a research plan as part of her Fulbright application. The research focuses on how gut bacteria enzymes respond to xenobiotics, such as carcinogens and drugs. The goal is see if the enzymes can unlock innovative treatments for infections.
But research isn't the only thing Udoh will do in Greece—she will also help Syrian refugees.
"Greece has a lot of refugees and I thought I could help by not only welcoming them, but also by helping them succeed in their new life," said Udoh, who has experience assisting Louisville-area refugees. "I will work with local Greek NGOs, like ARSIS, to learn from activists."
Udoh is grateful for all of the help she has received from her many mentors. In her scholar profile, she thanks 11 people, including her parents.
For Boukouvala, who recently traveled to UofL to meet with Udoh and Hein, mentoring students is a gratifying part of her work.
"It's a privilege," Boukouvala said. "The opportunity to work with students like Karen is the most rewarding part of being an academic."