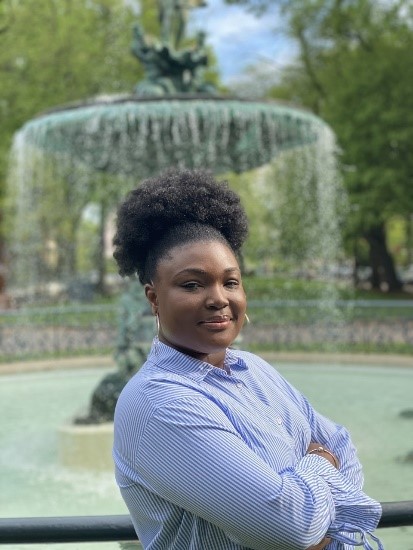 As a young child in Ghana, Nana Ama Aya Bullock saw the effect that HIV/Aids had on those around her.
"I remember the lack of knowledge, stigma and fear that came with the words HIV or AIDs," she said.
Her experiences as a child in her native country inspired her to take action as an adult by studying public health and researching HIV and AIDS.
The doctoral student's dedication to her field was rewarded this year as she was selected for a Fulbright-Fogarty Public Health Fellowship.
Bullock is one of 11 UofL students selected for the prestigious Fulbright U.S. Student Program, which offers research, study and teaching opportunities in more than 140 countries to recent graduates and graduate students.
"Being selected out of the thousands of applications is nothing but a blessing. It's a humbling experience," Bullock said. "I am very excited about this opportunity and looking forward to how it will unfold."
While in Ghana, Bullock will have the opportunity to work with the Fulbright Program, Yale University, the University of Ghana and the NIH Fogarty International Center to do HIV research, which she calls a "dream come true."
After leaving Ghana at age 14, Bullock grew up in Chicago, where she attended St. Gregory High School. She graduated with a bachelor of science in health education from Southern Illinois University Carbondale and earned her master of public health degree from Michigan State University. Now she is entering her third year of pursuing her doctorate in health promotion and behavioral sciences from UofL's School of Public Health and Information Sciences (SPHIS).
UofL's extensive body of research and resources the SPHIS faculty have to offer is what drew Bullock to UofL for her PhD journey.
"My favorite thing about being a part of UofL is having a supportive cohort and academic department," Bullock said. "UofL has provided me with knowledge and hands-on experience in the field and given me remarkable mentorship through my advisor Dr. Muriel Harris and my faculty mentor Dr. Jelani Kerr to support me and prepare me to undertake this work in Ghana."
Bullock has visited Ghana since her childhood, including traveling back to the country for an undergraduate practicum project. There, she worked with a local health facility conducting sexual health education. "This made me realize that there were still a lot of unmet needs for this epidemic," she said.
Bullock's hard work won't end when she graduates in the spring of 2022. She plans to continue her research and work to help communities affected by HIV.
"After I graduate, I hope to secure an appointment in academia or with a federal or global agency or institution where I can conduct global health research in HIV/AIDS," Bullock said. "Being able to help communities affected by HIV worldwide and contribute to such an important cause is very rewarding."