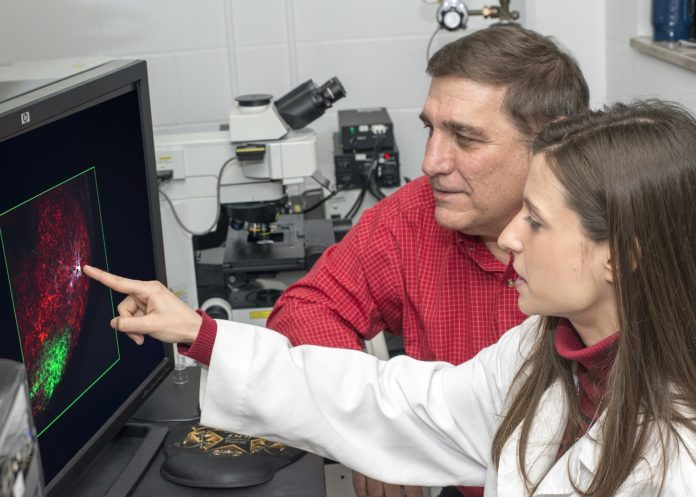 Astrocytes, or abundant, star-shaped glial cells in the central nervous system, are known to support neurons through such tasks as providing glue that helps neurons stick together, delivering nutrients and removing waste. However, research published last month in Proceedings of the National Academy of Sciences (PNAS) reveals they also play a commanding role in visual development.
University of Louisville researchers, working with colleagues at Virginia Tech Carillion (VTC), have discovered that astrocytes play a crucial role in directing interneurons, specialized neurons essential for vision, to the proper location in the brain during development. In response to visual stimulation, astrocytes express fibroblast growth factor 15, (FGF15), a molecule that directs the interneurons from germinal zones to their destination in the visual thalamus.
Neurobiologists William Guido, PhD, chair of the Department of Anatomical Sciences and Neurobiology at UofL, and Michael Fox, PhD, director of the Center for Neurobiology Research at Virginia Tech Carilion, worked in collaboration to reveal this process. The publication, "Retinal inputs signal astrocytes to recruit interneurons into visual thalamus," also included significant lab work by graduate students at both universities.
"My lab identifies a neurocircuit and follows it during development to visualize it, manipulate it and understand how it works," Guido said. "Dr. Fox provides the molecular mechanisms that underlie that circuit assembly. We combined our strengths to come up with these findings. Neither one of us could have done this on our own."
Interneurons are part of a class of neurons that balance excitatory neurons and are essential in maintaining proper brain function. If the interneurons do not populate the thalamus correctly, neural circuits mediating vision do not develop properly. Therefore, the accuracy of the interneuron movement is essential for how the brain views the external world.
The proper balance between excitatory and inhibitory neurons is essential not only in visual processing, but in other brain functions as well. That means this research provides new targets for treating neurological diseases caused by an imbalance between inhibitory and excitatory activity in the brain.
"Neurological diseases such as epilepsy and schizophrenia can be attributed, in part, to abnormal interneuron levels and activity," said Naomi Charalambakis, Ph.D., a UofL alumna who shares first authoriship of the publication. "This work not only reveals the importance of astrocytes in the development of thalamic interneuron circuitry, it also sparks more questions for future research: How does this affect the physiology patterns of other sensory systems? Does this phenotype manifest in behavioral differences?"
For this reason, Guido believes understanding how these cells migrate and are incorporated into brain circuitry could lead to new ways to ensure the proper balance of excitatory and inhibitory activity of other neurons.
"Knowing the importance of the location and incorporation of this type of neuron into the brain circuitry as well as the mechanism for its placement, we may be able to design strategies to make sure those neurons get where they should be or to overcome a deficit if they are missing," Guido said. "This could allow us to correct some of these conditions."
Another key finding of the work is that the astrocytes cue the migration of interneurons in response to external influences.
"Experience with the outside world is critical. When there is visual stimulation, that triggers the regulatory role for these cells in targeting," Guido said.
Graduate students at both UofL and VTC conducted much of the lab work for this research. Charalambakis, whose 2018 doctoral dissertation resulted in this publication and another in The Journal of Neuroscience in May 2019, now is a senior science policy analyst at Federation of American Societies for Experimental Biology.
The synergistic research between the Guido and Fox labs has led to numerous discoveries of vital information about neurodevelopment and five high profile publications over the past decade. The National Eye Institute funds both research labs.