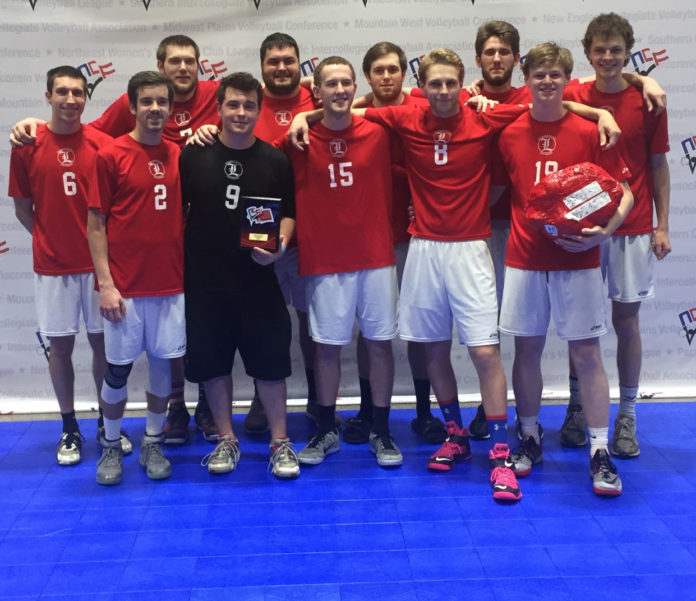 Eighteen months ago, the UofL men's club volleyball team only existed in the mind of now-senior Sam Bibelhauser. Just a year and a half later, Bibelhauser can lay claim to helping start one of the nation's best up-and-coming club volleyball programs, following a surprise 3rd place finish at the National Collegiate Volleyball Federation's national tournament in Kansas City in April.
The team followed up a respectable 2015-16 inaugural campaign with a 15-6 record this season, but was not that highly regarded by the national tournament officials, who seeded UofL 41st out of 48 teams in the D1AA division. The Cards' strong tournament run included an 8-1 record over three days including a win over sixth-seeded Cornell, which eventually finished as the tournament runner up.
"After struggling against really good teams in a previous tournament at Indiana, we knew we had to get better," Bibelhauser said. "We put a lot of work with our middle hitters and by the time we got to Kansas City we felt pretty good."
On the first day, the Cardinals went undefeated, including the win over Cornell. The team also went undefeated on day two and won its first round game on day three before playing and losing to Delaware, which won the entire tournament. 
"It sucks to lose when you're so close to being able to play on center court in the finals of our division, but it was great. We were so close you could almost taste it and I'd love to go back and have a repeat of that experience next year," Bibelhauser said.
To make the Cards improbable run even more impressive is that the team faced significant financial and logistical obstacles before they could even take the court. Due to limited availability at the Student Recreation Complex, the team struggled to figure out where they could practice, as well as how to pay for court time and team travel/equipment expenses.
"We had to rent off campus courts to practice, which were about $1,000 and then pay a couple of thousand dollars that would allow us to travel to tournaments. It was hard, but we've gotten better at fundraising," Bibelhauser said. "We raised money by hosting a couple of different tournaments and our guys did court set up for the local JVA (Junior Volleyball Association) tournament which allowed us to travel to Kansas City."
For more information about the club volleyball team, contact Bibelhauser at  502-777-9582 or visit its Facebook page.