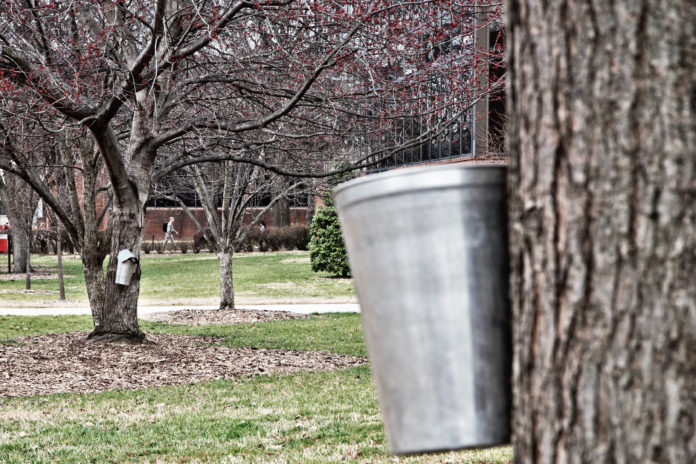 Lyndon resident and maple syrup maker Dave Barker visited Belknap Campus this month to teach students and the public the basics of tapping trees and making maple syrup. A public workshop Feb. 13 attracted several syrup hobbyists, including a farmer from Washington County. The workshop included a tapping demonstration at Garden Commons, which has four red maples, and a chance to taste fresh syrup Barker had made just the day before (and left attendees wishing for a stack of pancakes, or at least bigger spoons).
Here are five things we learned during the workshop about making syrup:
Sugar maples aren't the only trees used for syrup, at least for the home hobbyist. Trees such as sycamores and red maples can also be tapped. Sugar maples are preferred by large producers for their higher sugar content and longer sap-running season, but the real secret to making delicious syrup is in the processing, when the excess water is boiled from the sap.
Boiling the sap is always done over a wood fire. The No. 1 job during the off season for syrup makers is (you guessed it) chopping wood. It takes a cord of firewood wood (about 85 cubic feet) to make just one gallon of syrup.
Barker has helped students tap trees on Belknap Campus, but he has also been given permission to tap trees on Shelby Campus for his own use. He has tapped about 70 trees on Shelby Campus and the surrounding neighborhood, and he uses metal buckets to keep things aesthetically pleasing.
Federal Grove in Auburn, Kentucky, (near Bowling Green) is the southernmost commercial producer of maple syrup in the United States.
Sap is between 1 percent and 3 percent sugar and looks like water. "If you drink it, it is very delicious," Barker says. "It's very refreshing." These days, maple "water" is sold in grocery stores like Kroger, Whole Foods and Walmart.