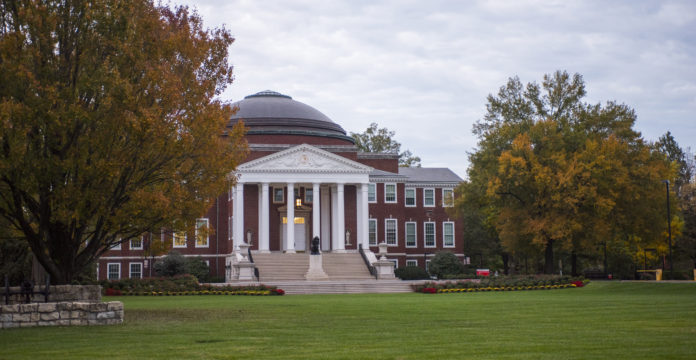 John Elliott, UofL's interim VP for HR, opened Monday's Staff Senate meeting, providing updates on his department following its reorganization. Among those updates is the exploration of a new performance evaluation tool.
A committee is working on finding the best fit and the tool should be available next year.
Also, the tuition policy was updated online to reflect a new change that requires employees to maintain an average C grade to get credit.
Todd Kneale, UofL's new director of Total Rewards, was introduced. He plans to provide an update next month on comps and benefits.
Jessie Morgan, director of Pharmacy Utilization, was also introduced and provided an update on five pharmacy initiatives that will be rolling out on April 1. They include:
Custom formulary exclusion
Enhanced clinical program
Utilization management
Save-on program
Safeguard program
Morgan noted that pharmacy costs rose 10.3 percent in 2017 and are expected to continue going up this year.
"These initiatives are intended to bring savings and represent enhancements and refinements," he said.
More information on these changes is available online. 
Interim COO Lee Smith also provided an update on all of the work taking place in his department, including the Governor's Capital Projects plan. Priorities this year include deferred maintenance projects. Smith said Kentucky's higher education institutions are about $7.2 billion behind in deferred maintenance, and UofL accounts for about $500 million of that. The governor proposed funds be available for UofL, but we have to match.
"We have a long way to go to address the deferred maintenance issue," he said, predicting the plan will begin to move forward in late March.
Second, Smith said there is a priority to restore staff in the Physical Plant department, which has been "particularly impacted" by the hiring freeze.
Third, W2s have been mailed to all employees. In the past UofL used Equifax, but that relationship has ended and the process is now being done internally, which has saved money. ULink has the past two years of W2s available.
Smith took some questions, including where UofL stands on the proposed HB201 concealed carry legislation. He stated that UofL opposes this bill.
He also noted that the RFP for print services has concluded and a vendor has been chosen and will be announced soon.
This was Smith's last presentation as interim COO.  Joseph Han will step into the role on March 1.
Chair's report
Chairman Will Armstrong provided an update, stating that the budget advisory committee has been inactivated for the moment so a rubric can be developed to score the requests and feedback coming in from all over campus.
The CFO search has been reopened and the same search committee will lead that process. The process itself, however, will be put on hold until a new president has been named.
Finally, Armstrong noted that the Board of Trustees did express its willingness to allow two additional staff members to serve on the presidential search committee and letters of interest will be routed through the C&N committee.
Committee reports
Vice Chair Vickie Tencer's report is available online. 
Credentials and Nominations noted that it is still in need of an SGA representative.
Policies and Economic Development noted that the tuition remission policy has been updated online. The committee's report is available here. 
The Staff Grievance Committee filed one grievance last month, which was concluded. Committee members will meet with HR for in-service training to help them be better investigators.
SHARE is working on raising awareness and has submitted an announcement to UofL Today and is working on a UofL News story as well.
The Staff Morale and Outreach committee noted that the Spring Day of Service is April 13 and 14 and encouraged senators to sign up. Registration is open until March 30 and can be done online. 
Finally, the treasurer's report is available online. The Staff Senate's balance as of the February meeting is $5,073.
The next meeting is March 12 on the HSC campus.