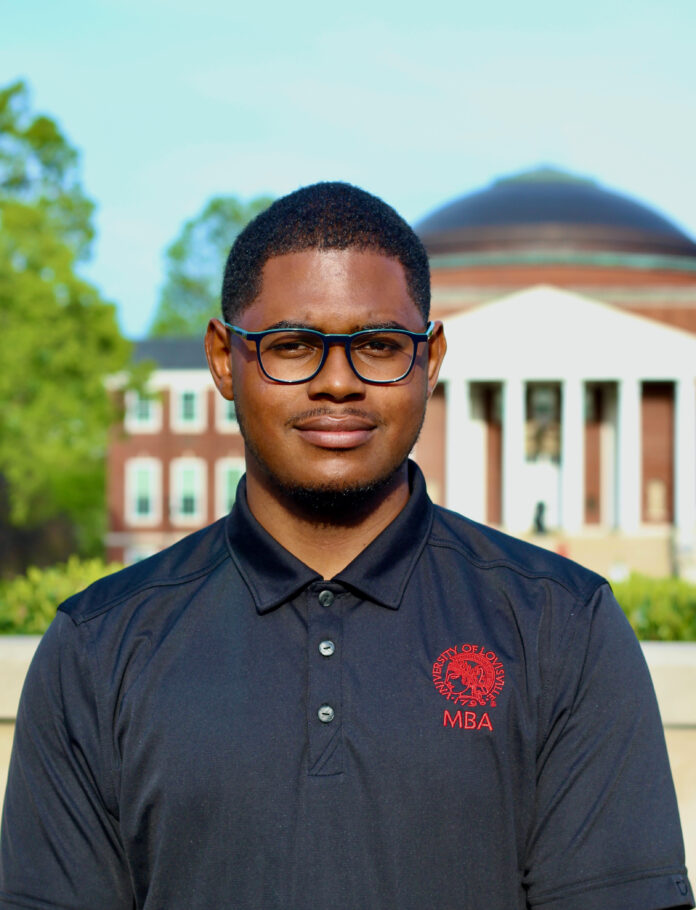 When Mikel Brown was looking to continue his graduate career, he settled on the place he'd called home for four years as an undergrad. The time he invested in UofL with dual credit courses, the sense of community of knowing other students who were accepted and making his family proud made it an easy decision.
"I am grateful that I did attend UofL and earned my undergraduate degree," Brown said "I had the opportunity to go somewhere else to earn my master's degree, but I ended up staying here and working for the intramural department to earn my MBA and that was a great pleasure."
A support system and determination to achieve a daunting – but possible – goal was key in Brown, a first-generation college student, furthering his career in higher education. Being a college student can be a difficult adjustment for many people, but there is often an added struggle for those who are the first in their family to complete their degrees.
"I think what really pushed me was my mom being a force, ensuring I was doing what I needed to do to get myself into college," Brown said. "My mom and my grandparents really pushed me and emphasized that education was something that I really needed to align myself with because you always hear that one saying of  'if there's one thing they can never take away from you, it's your education and the knowledge that you gain.'"
Brown had to find a way to meet his financial needs so that he could pursue his educational dreams. As an undergraduate, he received an athletic scholarship and had the opportunity to be one of the football managers during former Cardinal quarterback Lamar Jackson's time at the university.
"It was an absolutely incredible experience. That 2016 season, when he won his Heisman trophy, was actually my first season. That atmosphere in that year was absolutely insane, especially for being a manager for the first time," Brown said. "It was just incredible to see how the team was, how Lamar was, up close. 2016 was an incredible year for football and for being a manager."
Brown held five jobs throughout his time at the university, including two jobs that focused in sales, two jobs in university athletics and a job opportunity as an assistant athletic director for his high school. This work experience was an intricate part of helping Brown achieve his educational goals, but was also important to him because he was able to give back to his high school, to whom he also credits as a critical part of his educational achievements: Central High School.
Brown will accept a position at Amazon upon graduation. Along with his family and friends as a support system, he also found strength in a higher power.
"I can't take all the credit. I've learned to walk in the plan that God has for me and just to trust in him. I think that's the person who gets all my credit on me completing this [degree] and me handling what's possible and allowing him to do what's impossible because it has been a huge impact in my life."
Brown recalls his time at UofL as an enjoyable experience and a necessary education. He formed connections that helped guide him to graduation and a career.
His advice for others pursuing their degree at the university?
"I would say to push themselves. Even when it looks like it's getting hard, it gets better," Brown said. "I'm grateful for the people that I've met and that I've had in my corner. I'm grateful for what the university has done for me, personally, and it has been a great experience for me."