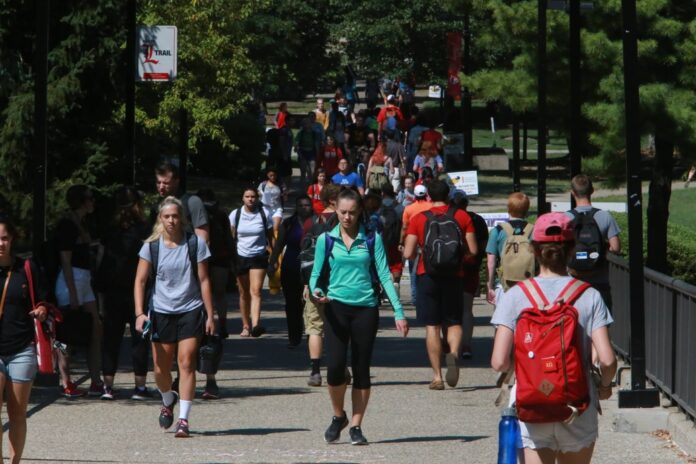 UofL's Staff Senate recently received updates on the university budget, tactics to accommodate the 1% raise for university employees that went into effect in March and the status of UofL's Compensation and Total Rewards Studies.
Chief Financial Officer Dan Durbin told senators the university entered the academic year with a balanced budget with expectations to generate sufficient revenue to cover expenses. These costs included last fall's 1% salary raise and $1,000 bonus for university employees, and the return of retirement contributions to pre-COVID levels.
"We also had a provision for an additional 1% raise in the spring; we said we would revisit that raise based on how we were doing from a tuition revenue standpoint," Durbin said. "We have looked through the fall semester and through spring registration. The good news is our tuition revenues are higher than last year; the challenging news is that those tuition revenues are below budget by almost $7.9 million."
Despite this challenge, administration maintained the additional raise would be within the best interest of the university. The 1% raise was authorized by the Board of Trustees and went into effect in March. Senators were informed that a financial plan was developed to ensure adequate funding for the institution-wide pay increase. Tactics of this financial plan included withholding a 3% contingency back from the units to cover unforeseen costs, as well as an increased emphasis on the importance of funding available to colleges and units through the University of Louisville Foundation.
"While we have tactics to ensure that raise, we still continue to work on enrollment not only for spring, but for the fall and beyond. Applications look really encouraging at the moment, but it's all hands on deck to make sure we can get back to our original estimates on enrollment so the university can be on good, solid footing next year," Durbin said.
Kari Aikins, director of Total Rewards for UofL, provided senators with information on the Compensation and Total Rewards Studies. Segal, an HR consulting firm with expertise in higher education, is currently reviewing data collected from the employee survey. The survey closed March 1, and an aggregate report of this data, which Is being generated by Segal, will provide input on remaining aspects of the HR initiative.
"One of the projects that this data will be used for will be our guiding principles and compensation philosophy, which we want to make sure aligns with our employee feedback and incorporates that input. We will also be using the data as we move through benchmarking, development of the career progression, leveling and some other components of the study that are still to come," Aikins said.
Committee reports and a full video recording of the virtual meeting can be found on the Staff Senate Meeting page. The next Staff Senate meeting will be held April 12 via Microsoft Teams.