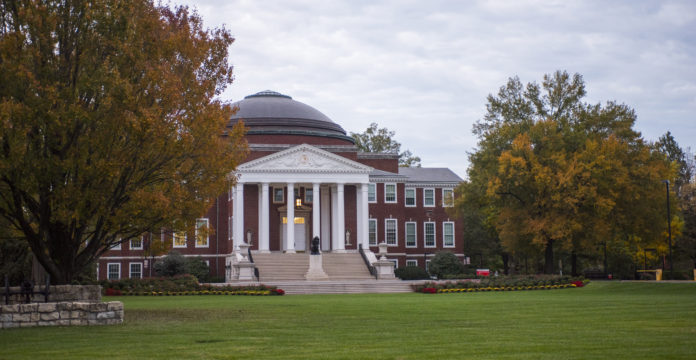 The UofL Board of Trustees Finance Committee on Wednesday approved a $1.2 billion budget that is focused on improving student success, enhancing recruitment and retention and improving the university's financial sustainability. 
The budget, which includes a 4-percent tuition increase for in-state students and a 5-percent campus-wide budget cut, will be presented for final approval to the full Board of Trustees June 20.  The tuition increase is partially offset by a 50 percent reduction in the Student Athletics Fee. As a result, the tuition and fee increase for students will amount to about 3.5 percent.
"This budget is not ideal, but we have to work with the financial resources we have," said UofL President Neeli Bendapudi. "We are focused on protecting and improving the education and the university experience for all our students." 
Interim CFO Susan Howarth told the committee that UofL continues to deal with diminishing state funding, a huge budget deficit created by a previous administration and a push from the Southern Association of Colleges and Schools to improve its liquidity, or cash on hand. 
"I ask for your patience and support as we make changes to strengthen the university while dealing with our fiscal reality," Bendapudi wrote last week to faculty and staff.  Calling the current budget a "short-term fix," she promised that long-term solutions will be developed with the students' best interests in mind. 
"While the challenges we face are significant, I am confident we are more than up to the task," she said. "And I am confident that, as a team, we will work through this issue and come out an even greater university." 
Budget highlights include: 
$14 million for student-based initiatives, including $5 million for student recruitment, $5 million for student success and retention and almost $4 million for financial aid

 

A drop in state appropriation from $132.8 million to $126.1 million
A 4-percent tuition increase for in-state undergraduate students. Tuition and mandatory fees for in-state undergrads will rise to $5,730 per semester
A 50-percent decrease in the mandatory student athletics fee, from $50 to $25 per semester, reducing the total increase in student costs to 3.5 percent
A 5-percent across-the-board cut in the university's budget. Bendapudi said each unit head will decide how to produce the 5-percent cut